---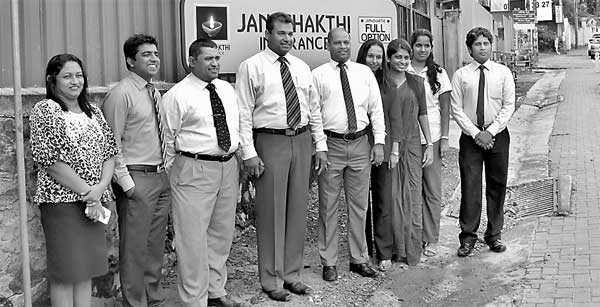 Janashakthi Insurance recently proved its commitment to pedestrians and motorists safety, supporting a special road safety messaging project, which was officially launched on April 8 in Pannipitiya.
The road safety project is a part of the National Safety Development Plan and is an initiative to improve road safety for pedestrians and motorists.
As part of a pilot project, Janashakthi sponsored 200 boards placed in strategic locations covering most of the 25 districts. Implemented by the National CSR Management Project under the Ministry of Social Welfare, the branded boards will be placed at traffic signal lights, railway crossings, junction heads, crossroads, side-roads, roundabouts and slippery roads. Apart from providing directions, the boards also contain key information tied to location for pedestrians.
"We need private-public partnerships to drive this, as it is a national requirement. We appreciate Janashakthi stepping forward to do this," said Executive Director of the National Corporate Social Responsibility Management Project, Nishantha Jayatilake at the event.
Local racer Dilantha Malagamuwa also attended the launch. "We are holding a Safety Driving campaign on April 26 at Viharamahadevi Park, since a lot of lives have been taken away due to road accidents. I heard what Janashakthi is doing and I always want to contribute to a good cause. This is good for the country as well as if people follow proper road discipline lots of road accidents can be avoided," Malagamuwa said.
"People make good use of these road safety boards, especially while driving, not just for directions but also to be alerted about potential road hazards. This project is a result of a demand from the general public, especially from schools, hospitals and local authorities. Apart from simply giving hazard signals, the boards will also contain tips on driving safely. This project ties in perfectly with Janashakthi's commitment to protect the local community. We are proud to sponsor this project, which we plan to expand in the future," said Manager- Brand Activations Kelum Weerasinghe.
Janashakthi has consistently stepped forward to provide protection to motorists. Recently, they provided special reflective traffic warden uniforms to several schools in the Central province, with the aim of protecting the students on duty carrying out their traffic duties during school rush hours. Students from Girl's High School Nuwara Eliya, Gamini Central College - Nuwara Eliya , Bambarakelle Maha Vidyalaya and Meepilimana Maha Vidyalaya have received traffic warden jackets under this programme. Due to high demand from many other schools, this project is to be expanded to other parts of the country as well.
Janashakthi also recently held the latest of its motor clinics in Jaffna, providing free vehicle scanning and technical advice to motorists, as an initiative to prevent vehicle breakdowns and accidents.