---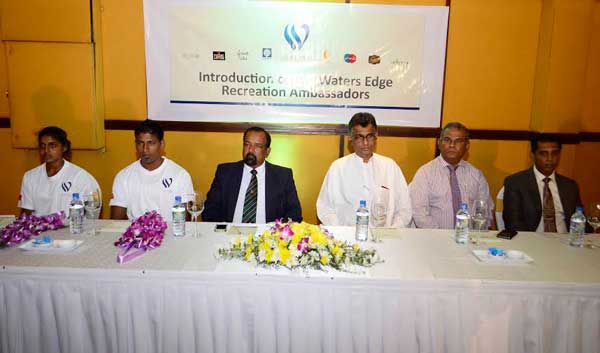 By Zahara Zuhair
The Waters Edge in Battarmulla recently offered sponsorships to two athletes in aid of their training as part of the property's Corporate Social Responsibility (CSR) drive. The sponsorship included of a financial sponsorship and a complimentary gym membership.

Athletes Rumeshika Rathnayake and Himasha Eshan, who hold the titles for the fastest sprinters in South Asia, also signed agreements as Waters Edge recreation ambassadors at an event held at the resort's premises.

Minister of Megapolis and Western Development Patali Champika Ranawaka, who preceded the event said that targeting 2020 Olympics these two athletes should be trained and prepared as after Duncan White and Susanthika Jayasinghe the country was unable to produce an Olympic winner.
"I read Himasha Eshan's record in the paper when he was a school boy, after reading I realised if a young boy like him could run the 100 meters in 10 seconds, if proper training was given he could achieve it in less than 10 seconds, also Rumeshika who is from Kegalle has more chance to improve her timing with proper training," he said.

The minister also stressed the need for building a sports-economy in the country, adding that considering Sri Lanka's geographical location the country can be developed as an international sports hub easily.Meanwhile, he said that even though Waters Edge is a government owned property, they identify it as a revenue generating resort which goes hand-in-hand with private
sector hotels.Mapping out the resort's future plans, the minister said that the property's management has decided to expand its facilities and to involve more in CSR activities.

Waters Edge is already on a Rs.13 billion expansion drive and it's vision is to be a US $ 500 million valued property by 2030.
Recently Waters Edge commenced its project on 'Sporting and Recreational Esplanade' on a 78-acre land which would host around 35 sports activities expecting to boost sports tourism.
The minister said that they are expecting to initiate a similar project in Nuwara Eliya as well.

Waters Edge Chairman Chamath de Silva said that this an golden era for the resort and they are expecting to implement a Balanced Scorecard for the first time in the history, which will come in to effect from 1st of June.
He added that by helping the athletes to achieve their goals, in return they only hope the athletes make Sri Lanka proud.
Pix by Waruna Wanniarachchi