---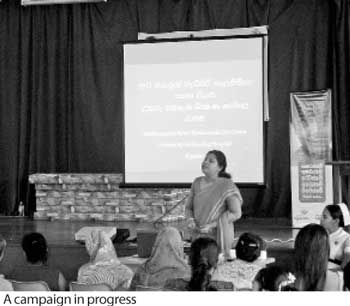 The CSR initiatives of Union Assurance PLC (UA) are centered on one, strongly championed objective - creating healthy and happy communities around the country.

In converging all initiatives of social responsibility with this objective, UA has brought all CSR endeavours under one unique brand, titled, 'Union Manushyathwaya' – Danuwath, Suwapath, Yahapath Hetak.

Enduring support of the respective authorities and positive contribution of the UA staff members across the branch network has led Union Manushyathwaya to successfully conduct over 50 dengue awareness programmes, over 100 thalassemia awareness programmes and 45 diabetes awareness programmes.

dengue awareness programmes schedule for the year 2017 was structured including a set of house-to-house visit programmes, Sharamadana campaigns, leaflet campaign, sticker campaign and a special dengue pilot project which was conducted for the first time in Sri Lanka. Total of 12 house-to-house visit programmes along with a successful Shramadana campaign, 39 leaflet distribution programmes and a sticker campaign was scheduled to support the efforts in the process of building awareness on prevention of dengue disease.

The first ever dengue pilot project executed within Sri Lanka which was commenced on January 5th 2017 in Kirulapone, Siddharthapura housing scheme successfully completed the first phase of the project on January 20th 2018.

This special project was aimed at initiating behavioural changes of the children within the community to address the dengue issue.
In addition, campaigns were carried out to raise awareness and prevent the spread of diabetes. 47 pre-scanning sessions were carried out during these programmes to diagnose potential patients and necessary advice was provided to them on controlling their blood sugar levels and leading a healthy lifestyle. To further expand the reach of creating awareness UA initiated a direct mailer campaign to mark the International Diabetes Day 2017 on November 14th.

UA was able to provide invaluable support towards controlling another severe blood disorder by conducting thalassemia awareness and prevention campaigns as well. In order to support the initiatives UA conducted 30 Thalassemia awareness programmes and over 75 blood screening programmes to increased levels of awareness and to reduce the spread of this disorder. All these programmes were organised with the extended support and collaborative efforts received from National Thalassemia Centre – Kurunegala and Hemal's Adolescent and Adult Thalassemia Care.