---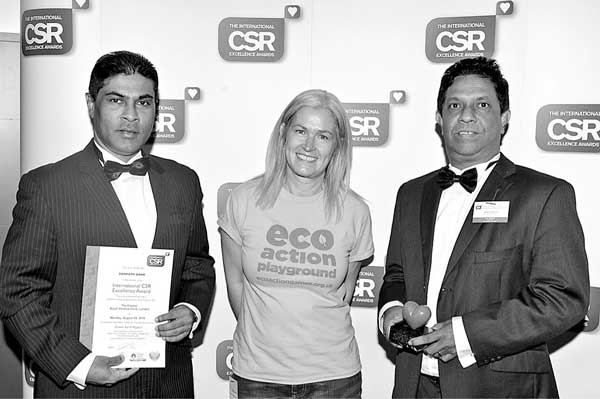 Sampath Bank has remained a forerunner in its commitment to create a positive impact towards the country, its citizens, the environment as well as the bank's employees and other stakeholders. Along with the strong evolution of corporate social responsibility (CSR), Sampath Bank has marked yet another milestone, the achievement as a winner at the prestigious International CSR Excellence Awards 2016 ceremony organised by 'The Green Organisation' recently at The Crystal, London Docklands.

Over the years, CSR has been etched as an integral part of Sampath Bank's DNA; with unwavering dedication, Sampath Bank has made resilient headway in launching significant CSR initiatives based on its '5E CSR Model'. The particular model draws upon the pillars namely entrepreneurship development, education for development, empowerment of community, environment protection and conservation and ethics and values.

Speaking on this achievement, Sampath Bank PLC Senior Deputy General Manager Consumer Banking and Pillar Head of CSR Tharaka Ranwala said, "To be recognized as a 'company that cares' amongst over 200 nominees in the International CSR Excellence Awards is truly satisfying. This indeed symbolizes Sampath Bank's vision, belief and efforts to present a promising future to the citizens of Sri Lanka and to create a meaningful development that advocates a much wider context of change for the nation."

Whilst focusing on the 5E CSR Model, Sampath Bank has significantly delivered to its triple bottom line through transformative CSR model which concentrates on sustainable economic, social and environmental advancements. Accordingly, 'SampathSaviya – empowering budding entrepreneurs', 'SampathPasala –uplifting education in rural Sri Lanka', 'Bolgoda wetland conservation project – protecting and conserving Sri Lanka's largest natural freshwater lake', 'Water purification project at Poonewa - combating chronic kidney diseases' and 'Vision 2020 – combating avoidable blindness', are among the number of key initiatives carried out by the bank.