---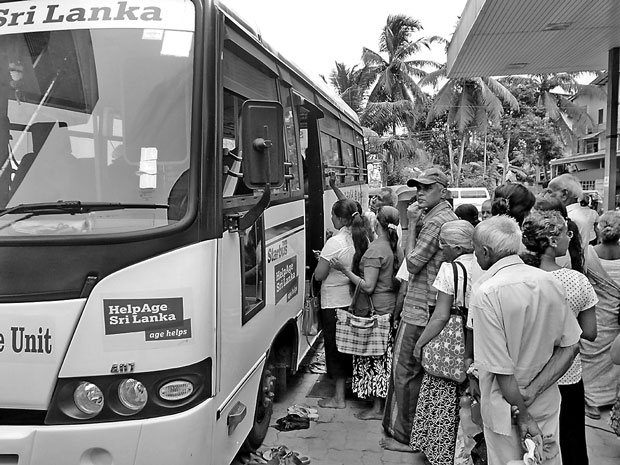 National Savings Bank (NSB), the largest savings bank in Sri Lanka has taken yet another giant step towards HelpAge Sri Lanka (HASL) to conduct free Mobile medical and eye camps around the country.

Accordingly, NSB has agreed to sponsor 14 mobile medical andeye camps in many districts during the period from June to December this year.

Out of 14, seven camps will be conducted on Full Moon Poya days at temple premises for the benefit of devotees who attend their usual religious observances.

Commenting on the programme, NSB MarketingDeputy General Manager Lal Karunathilake admired the invaluable service rendered by HelpAge Sri Lanka towards senior citizens to improve their health and eye care facilities.

He said NSB has decided to continue its involvement in this programme even in future under its CSR initiative.

HelpAge Sri Lanka which is the sister organization of HelpAge International, United Kingdom is a Non-Profit Charitable Organization that works to resolve the social, medical and low vision issues faced by destitute Sri Lankan elderly citizens.

HASL, Executive Director Samantha Liyanawaduge said HelpAge conducts free cataract surgeries to less privileged senior citizens at HelpAge Eye Hospital, Sinsapa Road, Wellawatta.

"In addition, we also provide them with free spectacles, eye care and medical facilities."

Liyanawaduge said HelpAge also helps countrywide elderly citizens and their kith and kin even during catastrophic situations to enhance their quality of lives.

According to HelpAge, each mobile medical team comprised with a doctor, a nurse, an optometrist and a team of members to provide support services.

The mobile buses have latest eye care and medical equipment.

A specialist doctor also attends the camps to examine elders who suffer from Non-Communicable Diseases (NCDs).

HelpAge statistics reveal that NSB has been sponsoring mobile medical camps since 2015 in the districts of Kurunegala, Kandy, Ratnapura, Hambantota, Ampara, Badulla, Galle and Anuradhapura.