---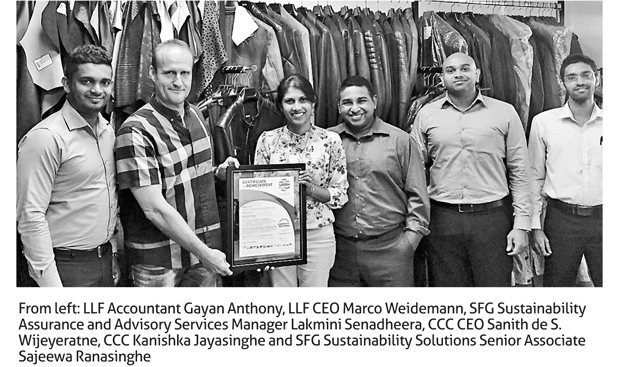 Continuing strongly on the environmental responsibility journey that they embarked on two years ago, leading high-end leather garment manufacturer Lanka Leather Fashion (Pvt.) Ltd (LLF) recently renewed their 'CarbonNeutral' certification for the third year running.

Suppliers to prominent high-street fashion brands such as Hugo Boss, Gerry Weber, Michael Kors and Taleco, LLF is also a staunch advocate of social responsibility both in the workspace and with local small businesses to promote sustainability across the leather industry.

Their certification renewal included an in-depth assessment of LLF's organisational greenhouse gas (GHG) emissions that was conducted by The Carbon Consulting Company (CCC), and an independent verification of results by the country's foremost ISO 14065 accredited validation, verification and certification services provider, The Sustainable Future Group (SFG). LLF then invested in a Renewable Energy Project in Sri Lanka to obtain registered Carbon Credits through UK based Natural Capital Partners of which SFG is the regional partner, and were subsequently awarded with Natural Capital Partners' globally recognised 'CarbonNeutral' certification.

Not content to only negate their overall impact, LLF improves their environmental performance year-on-year, and even managed to achieve a notable 16 percent reduction on their organisational Carbon Footprint last year compared to their 2015 baseline year, with an 11 percent increase in production as well.

CCC CEO Sanith de S. Wijeyeratne congratulated LLF on their efforts by stating "Marco and his team at LLF are a shining example of how leadership and vision at the Corporate Management level can help drive an organisation's sustainability initiatives to become a point of difference that can be leveraged for competitive advantage. The organisation's leadership in reducing and compensating for their environmental impact is getting much deserved attention from the key decision makers and stakeholders in their global supply chains. We are proud to have partnered with them on their environmental journey."

Lanka Leather Fashion CEO Marco Weidemann added: "We are proud to hold the title of 'CarbonNeutral' for the third year in a row. All our clients around the globe have noticed our efforts on measuring, managing, and mitigating our greenhouse gas emissions. I would like to thank CCC for their continued guidance and support in helping us maintain this certification."