---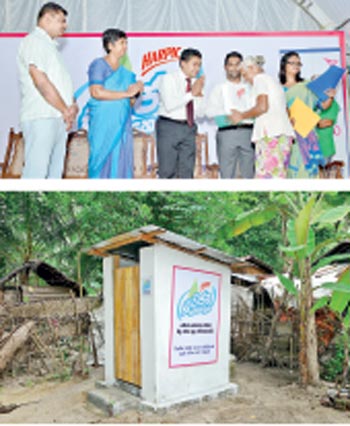 The first set of 100 toilets commissioned by the City Planning and Water Supply Ministry together with Harpic was completed recently, providing clean sanitation facilities to over 30 households and one school in Katana.

In March, Harpic launched the 'Harpic Suwa Jana Meheyuma; Mission Wellbeing', in collaboration with the City Planning and Water Supply Ministry to elevate the status of hygiene across households in Sri Lanka. The project sought to build 100 toilets in the Western province in the first phase, going up to 300 toilets across Sri Lanka at the completion of the project.

The students of David De Silva Vidyalaya in Peellawatta, Katunayake, with an 800-strong student population will also have access to a new washroom facility that promotes the concept of hygiene.
City Planning and Water Supply State Minister Sudarshani Fernandopulle who led the project since its inception said: "This is an overlooked area in Sri Lanka's development drive. I am confident that we will be able to achieve our target to build 300 toilets during the next few months and provide clean sanitation facilities for well over 1,000 people.

It is estimated that nearly two percent of the population practice open defecation due to the lack of toilets, while a further two percent share a common toilet. The City Planning and Water Supply Ministry has identified the need for nearly 180,000 toilets across Sri Lanka.

Harpic's current efforts to build toilets is only the first step of a much bigger national project that hopes to address Sri Lanka's sanitation issues that go deeper than the unclean toilet we see on the surface.
Commenting on the progress of the project, Reckitt Benckiser Sri Lanka Commercial Director Sinclair Cruise said: "There is more that needs to be done across Sri Lanka to address the sanitation issue. This project is one of many initiatives we have undertaken in this area and we will continue to work on public spaces to improve the sanitation situation."