---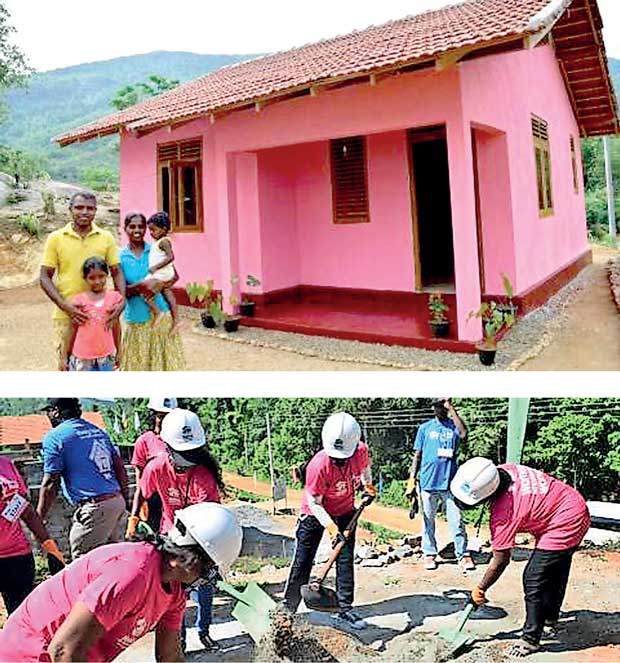 In celebration of the National Housing Day, Habitat for Humanity Sri Lanka (HFHSL) ceremoniously handed over 80 houses constructed for families affected by landslides in the Kegalle District in Aranayake, Sri Lanka.
This project was launched by HFHSL in partnership with Alwaleed Philanthropies in January 2017, as part of a disaster response initiative to assist families affected by Cyclone Roanu, which struck Sri Lanka in May 2016.
In response to this disaster HFHSL launched the 'Kegalle Housing Project', estimated at nearly Rs.80,000,000 to construct homes for 80 families in the Divisional Secretariats of Aranayake, Deraniyagala and Yatiyantota. Providing safe housing solutions to more than 350 affected people, each completed house constructed through this project contained disaster resilient features recommended by the National Building and Research Organisation (NBRO) and was 550 square-feet in area consisting of two bedrooms, a living room and a kitchen.
Commenting on the project, HFHSL President and Board of Directors Chairman Lakshan Madurasinghe said, "At Habitat for Humanity, we believe that every Sri Lankan deserves a decent place to live. I am very proud of the impact Habitat Sri Lanka has been able to create through the Kegalle Housing Project.
In merely six months HFHSL has been able to help rebuild the lives of 80 families who lost their homes and livelihoods, which is indeed a great achievement. We are sincerely grateful to Alwaleed Philanthropies for their generosity and their support."
HFHSL is currently engaged in implementing a project funded by the EU, which aims to construct and repair nearly 2,400 houses in Batticaloa, Kilinochchi and Mullaitivu by 2019. Additionally, HFHSL recently commenced the 'Indian Housing Project' to construct 100 homes for plantation workers in the Central and Uva Provinces by 2018 through a project funded by the Government of India.
Apart from housing construction, Habitat Sri Lanka also helps families to build or repair water, sanitation and hygiene (WASH) facilities and provides WASH training in communities and is currently supportingrural communities in the Matale District to gain access to safe drinking water and to construct adequate sanitation facilities.
As an organisation dedicated to fostering volunteerism in Sri Lanka, Habitat for Humanity also offers numerous volunteer opportunities for corporates, schools and organisations to volunteer their time and effort to help communities in need.
HFHSL offers a unique volunteer experience – where volunteers are able to contribute their unskilled labour towards constructing homes at volunteer build events. One such build event was the 'Women's Build', which was organised in celebration of International Women's Day under the theme of 'Women Empowering Women', where Sri Lankan women from all walks of life joined hands to raise funds and build homes for families in Yatiyantota.
Additionally, a 'Scout Build' was held in February where more than 200 boy andgirl Scouts participated in constructing homes for families affected by landslides in Aranayake. In 2017, HFHSL has also hosted more than 150 international volunteers through its Global Village volunteer programme.
HFHSL has launched a comprehensive disaster response plan in response to the floods and landslides caused by Cyclone Mora in May 2017. This project aims to assist the flood and landslide-affected families in the Kalutara District through the provision of emergency shelter and sanitation solutions. In the recovery phase, Habitat will work with displaced families to construct permanent houses.