---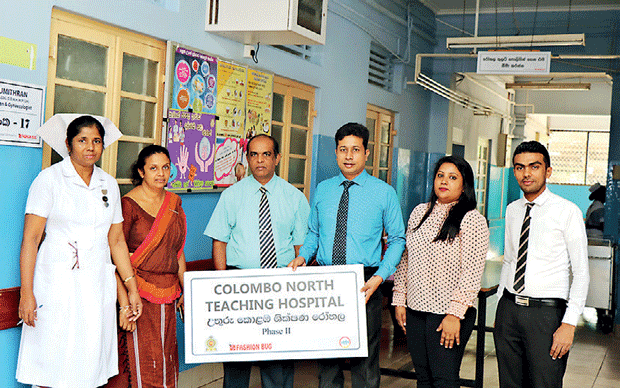 From left: Ward Sister Kodisinghe, Deputy Director Dr. Vajira Dissanayake, Deputy Director Dr. Sarath Premasiri, Fashion Bug Operations Assistant General Manager Dinesh Ekanayake, Fashion Bug Marketing Manager Samadhi Abyesinghe and Fashion Bug Wattala Store Assistant Manager
For expectant parents, the birth of a new baby is a time where they deserve much reassurance and support, and with the aim of enhancing this experience, Fashion Bug recently refurbished the maternity ward at the Ragama Teaching Hospital.

Mothers receiving treatment at the ward also received a care package comprising essential items courtesy Fashion Bug.

The newly renovated ward number-17 of the Ragama Teaching Hospital has the capacity to accommodate 40 patients, providing expectant mothers and their babies with a quiet and comforting environment. The ward was refurbished for the second time as a continuous drive to maintain the ward as Fashion Bug strives to make continuous efforts to contribute to societal needs; and it also took measures to installed direction signs at the hospital, as a part of their CSR initiative.

Such benevolent projects are a driving force behind the corporate giant's vision to serve society. Their key focus on various CSR projects carried out across the country is to reflect the company's generous ambitions.

Highlighting their recent efforts, Fashion Bug Director Shabier Subian said the company wishes to transform society through their continued efforts. "Without confining the company's interest in capital, we believe in giving back to our communities. Our resources and time invested in all our initiatives are based on these values. Their generous efforts in supporting healthcare facilities do not stop here, as Fashion Bug regularly contributes towards the improvement of various healthcare establishments across the country, including the National Cancer Hospital in Maharagama, Lady Ridgeway Hospital for Children as well as the National Eye Hospital," he said.

"Our goal is to create a sustainable and continued CSR platform which will have a lasting and far reaching impact on society. All our CSR initiatives are crafted with a clear CSR identity which is unique to Fashion Bug, that of a responsible corporate citizen. Furthermore we extend the opportunity to our loyal customers to engage and be a part of our noble efforts," Subian further said.

Fashion Bug lives up to its motto of 'changing lifestyles' as it spends millions annually on various CSR projects, encouraging positive change throughout the country. These projects vary from sports, environment, public services and most importantly improving access to healthcare and promoting education.

The 'Sisu Dirimaga' programme, an award winning CSR programme carried out by the retail giant, is an apt example of their services. The project saw over 12,000 students, across 120 schools of the island benefit from the programme.