---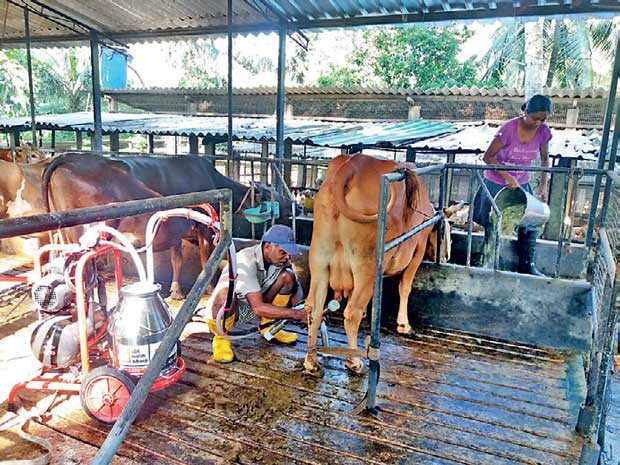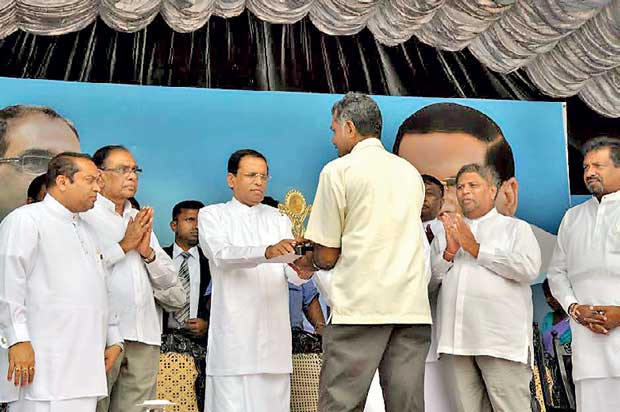 Suneetha Rupasinghe and Suneetha Wevita, a dairy farming family from Hanwella that has been supplying Fonterra Brands Sri Lanka for over eight years, never imagined that their family-run farm would be recognised by the state.
That all changed last September when they picked up the title for Best Medium-scale Milk Producer in the entire Western Province and were handed the trophy from President Sirisena himself.
This dairy farming family forms part of the approximately 300,000 smallholder dairy farmers across Sri Lanka that together supply 80 percent of the country's milk.
While they are now running a well-tuned nine-cow operation with an average daily yield of 35 litres, the couple started out in 2008 with just one cow producing between six and seven litres each day, one small shed and half an acre of land.
They say they were proud to receive the award from the Agriculture, Irrigation, Land, Animal Production and Health, Fisheries and Agrarian Development Ministry – something they never could have imagined eight years ago when they began farming.
"We've come a long way and receiving this award was one of the most inspirational moments of our lives– a moment we will always treasure.
"Managing a farm with nine cows cannot be done alone and we work together to ensure that our business continues to prosper," said Rupasinghe.
These dairy farmers put their family's success down to their continuous focus on improvement.
"Every day we wake up determined to make our farm even better than it was the day before. Key to this has been working together to perfect our systems, but also to link up with industry experts where we can," said Wevita. Rupasinghe and Wevita have worked with veterinary surgeons and the Animal Health and Production Department, as well as with Fonterra's dairy experts and supplier relationship officers.
"The visit and training session at Fonterra's demonstration and training farm in Pannala was especially informative and eye opening," said Rupasinghe.
He is one of the more than 3,500 dairy farmers and industry personnel who have visited and received training at the farm in its first year of operation.
"The training at the farm provided a lot of knowledge and tools that have helped us to make some changes on our own farm, including upgrading our cattle shed to better suit the unique needs of our herd. In the six months since then, we have already seen an improvement of 13 percent in our milk yield, as well as a significant savings in time and labour," he said.
This dairy farming family is proud to contribute high-quality local milk that is used to manufacture Fonterra's Anchor and Anchor Newdale products.
Fonterra Brands Sri Lanka and the Indian Subcontinent Managing Director Sunil Sethi said that similar to Rupasinghe and Wevita, many dairy farmers have applied lessons from the demonstration and training farm to improve the efficiency and profitability of their own farms, as well as the quality of milk.
"Fonterra is a co-operative owned by New Zealand dairy farmers and we strongly believe in collaboration and sharing the expertise we've built through generations of dairying.
"Our Pannala demonstration and training farm is a first-of-its-kind initiative in Sri Lanka, set up to share our world-class dairy farming knowledge with local farmers, enabling them to be active contributors to the industry and the economy," said Sethi.