---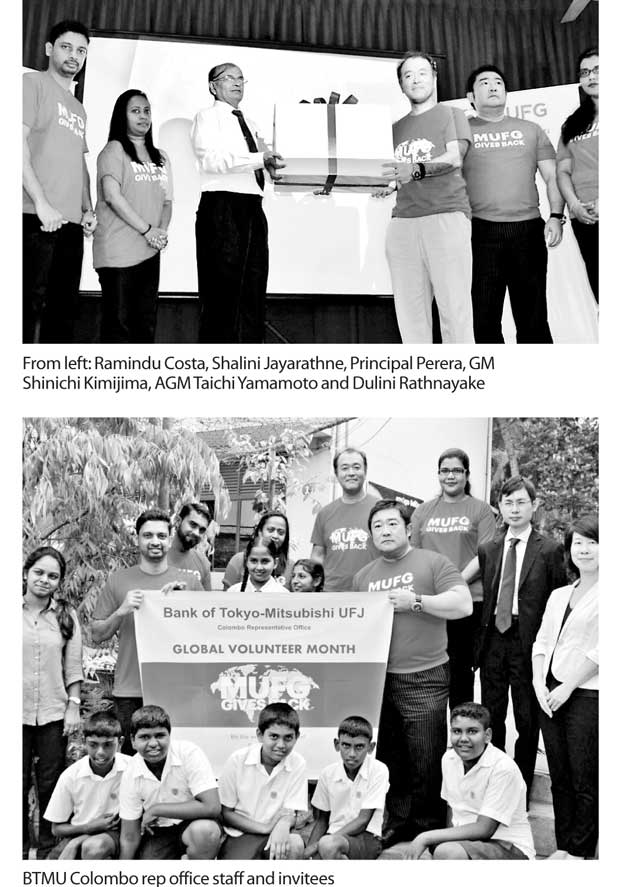 Mitsubishi UFJ Financial Group (MUFG)'s banking entity, Bank of Tokyo-Mitsubishi UFJ, Ltd (BTMU) Colombo representative office recently presented brand-new school shoes and socks worth Rs.200,000 to children who were affected by the floods in May this year.
The ceremony was held at Munidasa Kumarathunga Vidyalaya, Kaduwela, where shoes and socks were presented to students. Speaking on the occasion, BTMU Chennai and Colombo General Manager Shinichi Kimijima said, "It is a privilege to donate school shoes for needy children through our 'MUFG gives back' programme. With this gesture, we hope we can motivate young learners to feel proud about going to school every morning and 'put their best foot' forward, so to speak, in their quest for knowledge."
BTMU's Colombo staff also conducted an awareness session on financial literacy and career options in the banking sector for graduating students at the event.
"We will continue to give back to the community and play an active role in nurturing the next generation here in Sri Lanka," Kimijima added.
Since 2013, MUFG has been actively involved in community work in appreciation of the outpouring global support for its home country during the East Japan earthquake disaster. The annual MUFG Gives Back global volunteer month encourages its teams across the globe to be agents of positive change and work with their respective communities to build an inclusive and supportive environment for a better future.