---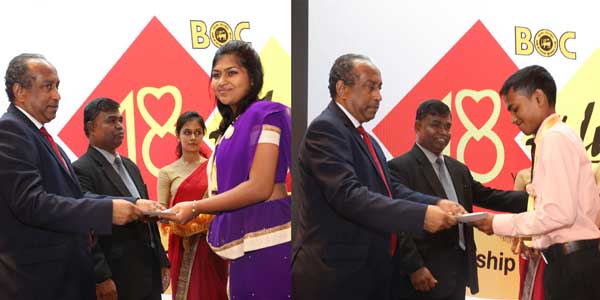 BOC 18 Plus scholarships awards took place on 28th April at the Bank of Ceylon Head Office auditorium. This year BOC awarded 95 scholarships for eligible 18 Plus account holders currently studying in state universities, in recognition of their achievements in the 2013 G.C.E. Advanced Level examination.

Among the Bank's 95 scholarships, 20 students were awarded the special merit awards as they have obtained the highest marks in those four streams- Science, Mathematics, Commerce and Arts. Each student received a scholarship of Rs.35,000. The other 75 students who were selected through a raffle draw received each one of them a scholarship worth Rs.30,000.

The event was graced by Mohan Palliyaguru as the guest speaker, a motivational speaker with a wide range of experience. The Bank's Chairman President's Counsel, Ronald C. Perera, General Manager D. M. Gunasekera, Deputy General Manager Sales and Channel Management G.L.P Jinasoma and members of the Corporate and Executive Management and parents of the scholarship winners were also present at the event.

The Bank of Ceylon conducts this annual awards ceremony since year 2002 as a part of banks Corporate Social Responsibility towards empowering and motivating Sri Lankan youth to pursue higher education and reach their highest potential to achieve a sustainable development in the country. So far BOC has granted 1145 scholarships worth of Rs.30.95 million. Selection criteria for this year's scholarship were based on the 2013 Advance Level examination results. Simply by maintaining a minimum of Rs.5000 uninterruptedly in the 18 Plus account from 1st January to 31st December in the year of examination will make the student eligible for the scholarship.