---
Alliance Finance Company PLC (AFC), the third oldest finance company in Sri Lanka, recently received a Merit award in the Large-Scale category under the services sector at the Social Dialogue & Workplace Cooperation competition organised by the Labour Department of Sri Lanka.
This competition is held nationally aimed at building workplace harmony through the promotion of social dialogue and workplace cooperation. The competition was held under four categories namely the service sector, production sector, estate sector and apparel sector.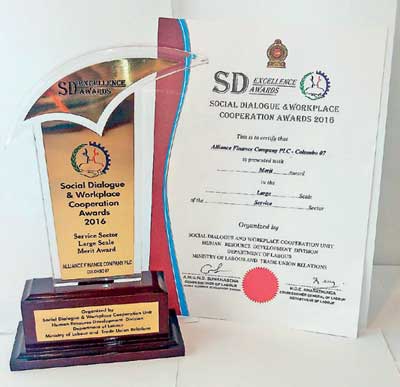 Commenting on the award, AFC Managing Director Romani de Silva said, "This award is a strong testament to the fact that Alliance Finance Co. PLC as an organisation considers its employees as the most valuable asset and continuously strives to facilitate a rewarding career with growth and also imbue innovative and sustainable people practices. All internal operations at AFC are geared towards supporting each and every stage of the employee life cycle with a focus on delivering excellence and value for our employees. This recognition helps our organisation in keeping the philosophy of the triple bottom line concept – people, planet and profit."
AFC deals with leasing, fixed deposits, savings, gold loans, microfinance and personal loans. AFC also takes particular interest in offering credit facilities to suit the financial needs of individuals, who need such assistance, in addition to the above services.
In order to provide excellence in its microfinance services, the company takes a very special interest in this segment and it is happy to have recorded unprecedented results, in a very short span of time. AFC also provides small and medium loans, micro leasing, micro housing loans, micro personal loans, micro mortgage loans, agricultural loans and institutional loans to its customers.