---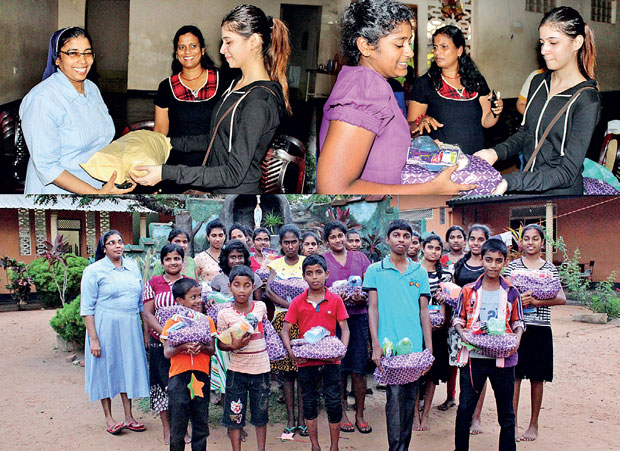 Abans staff of ABS GDH kept the Christmas spirit alive and well as they collectively worked towards spreading the joy this season at the St Mary's Children's Home in Kochchikade.
St. Mary's Children's Home works unconditionally towards caring for children from all races that have been through unfortunate experiences of troubled backgrounds, abuse, orphaned or abandoned.
Upon reaching the premises everyone was welcomed by the Sister and the staff of the Home. Shortly after all staff members present collectively arranged the place to begin setting the festivities in motion. Each individual gathered there began introducing themselves to the children and in-turn asked the children to introduce themselves, all contributing to a gesture of breaking the ice and building a more comfortable atmosphere for the children.
A 'Trust Building Game' inaugurated the activities for the day wherein children were taught how to trust and assist one another through the means of a fun filled game. Soon the mood set into an energetic mode when more games took place such as the balloon game. Each child was given a balloon that had to be blown and tied to their right leg after which they had to keep their balloon safe while attempting to burst the balloons on the other children's leg. The children were also taught how to make Christmas decorations adding a very colorful and festive tone to the surrounding ambiance.
Abans is fortunate to have caring staff members at ABS GDH who presented a sense of warmth that comes from family and hoped to improve the children's confidence and enhance their social and
emotional development.
The children were delighted to be amongst staff members creating positive stimulation for everyone all throughout. In keeping with spreading the festive cheer and joy the children were each spoilt with a Christmas goodie bag that was filled with gifts. In addition to this they were also gifted a complete set of cricket equipment instantly putting a smile on their faces.
Abans works at constantly evaluating priorities and exercising humanitarian responsibilities to impact lives of others for the better. These children like all other children represent the future of our nation hence Abans progressively works hard at ensuring they can provide the best to help to those in need. The children of St. Mary's Home were given a playful and joyous celebration to remember sharing the joy and excitement that comes with the year-end
festive season.