---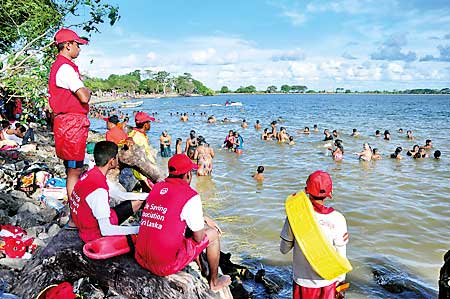 Last year, AIA saved 24 people from drowning by facilitating the presence of lifesavers. Out of the recorded reasons for incidents, 9 of them were due to falling into an unexpected deep hole in the lake.

Commonly known as sink holes, these are dangerous dips in the lake bed which catches you off-guard, making you lose your footing in unforeseen deeper waters.

Like in life, swimming in the water too, could pose some challenging situations you were not expecting. Natural bodies of water are full of sink holes, and such unexpected situations which could be detrimental. So if you are one of those people that enjoy getting into the water, then it is imperative that you are aware of the risks at hand and how best to face them.

Now in its 23rd consecutive year, AIA's Poson Safety Programme is one aimed at saving the lives of over a million Poson pilgrims who throng to the sacred cities of Anuradhapura, Polonnaruwa and Dambulla. Bathing in the reservoirs in these areas is a popular, yet dangerous past-time. That is why, AIA plays the role of educator, by creating awareness on the dangers of drowning. More so, AIA facilitates the presence of lifeguards around these tanks, so as to physically save lives when necessary.

Out of the 24 lives saved last year, most incidents were due to falling into sink holes unexpectedly. 5 incidents were because the victims couldn't swim, 2 fell off a rock, while over 4 were intoxicated and 2 got swept away. With this in mind, AIA, working with the Life Saving Association of Sri Lanka, the Police and Navy, will deploy 600 lifeguard this year to keep an eye on bathing pilgrims.

AIA Head of Marketing Suren Perera said "We are here to help people close the gaps between the protection they have and what they need for themselves and their loved ones. That is why we invest in this Poson safety programme, to make sure that people get the protection they need, when they are caught off-guard. Every victim is someone's child, or parent or the chief breadwinner of a family - so it's not just about saving lives, but also about protecting families."