---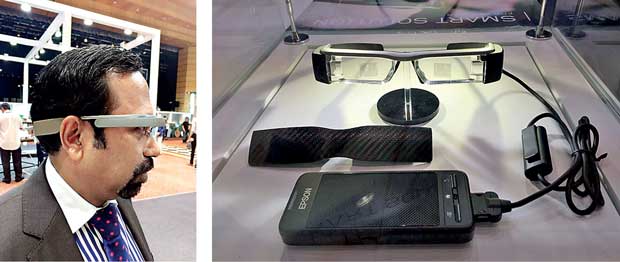 In another pioneering venture to introduce the latest technological advancements to Sri Lanka, Wickramarachchi Opticians recently introduced the revolutionary 'Google Glasses' to the local market. Being launched for the first time in Sri Lanka, the glasses can be customized on a prescription basis to suit each individual's requirement.

Commenting on the launch of this globally recognized product, Wickramarachchi Group Chief Executive Officer Mihira Wickramarachchi noted, "Our company is well-known for pioneering and introducing some of the most innovative technological advancements to local consumers. With our audiology arm, we have been able to take Sri Lanka to the #1 spot in the technology and service area at our WISH centre.

State-of-the-art laboratories and hearing aid assembling centres housed within the facility, means that we are capable of handling the entire spectrum of hearing and speech therapy needs under one roof. Neurotology or the science of hearing and balance is another area which we introduced very successfully to Sri Lanka. With the introduction of Google Glasses, we are bringing local consumers another global product."

Google Glass is a type of technology with an optical head-mounted display and displays information in a smartphone-like hands-free format. Wearers communicate with the Internet via natural language voice commands, allowing each user the freedom to customize his/her pair of glasses to suit their individual needs. The glasses connect with the wearer through the bone conductor which is a technology adopted by hearing aids.

The Google Glass comes equipped with a touchpad located on the side allowing users to control the device by swiping through a timeline-like interface displayed on the screen. Sliding backward shows current events, such as weather and sliding forward shows past events, such as phone calls, photos, circle updates, etc. It also has the ability to take photos and record 720p HD video. The LED illuminated display makes it easy on the wearer's eyes.

In terms of software, Google Glass applications are free applications built by third-party developers. It also uses many existing Google applications, such as Google Now, Google Maps, Google+ and Gmail. Many developers and companies have built applications for Glass, including news apps, facial recognition, exercise, photo manipulation, translation and sharing to social networks, such as Facebook and Twitter. Google offers a companion Android and iOS app called MyGlass, which allows the user to configure and manage the device.

Google Glass will be available exclusively at all Wickramarachchi Opticians outlets across the island.