---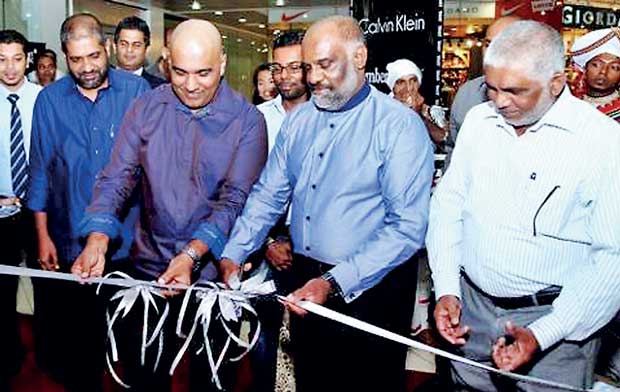 The ribbon cutting for store opening. From left: A D A Jezmi, Director – Royal Lanka Agencies, A D A Jawzi, Director – Royal Lanka Agencies, Chief Guest of the event Thusitha Wijayasena, Chairman/CEO – Kandy City Centre and Zury Shafeek, Director – Jewel Laurel


Turret is a well-reputed designer store offering a range of exclusive lifestyle products hailing from globally renowned luxury brands reputed with class and elegance.

The high to mid-end line of products include branded writing instruments, watches, gems and jewellery and designer clothing for men, women and kids. The newest branch of the TURRET luxury store was opened at Kandy City Centre, popularly known as KCC. Spanning a wide floor-space, the Turret store located on Level 3 at Kandy City Centre is easily accessible from all three entrances to the KCC mall.

Turret has also organized several exciting promotions as a part of its launch celebration at KCC in the island's former hill citadel.

With the view of catering to the brand conscious consumer public of Kandy, this exclusive branch of Turret was ceremoniously opened at the Kandy City Centre (KCC) by Thusitha Wijayasena, Chairman/CEO of KCC along with Jawzi and Jezmi Dastakeer, Directors of Royal Lanka Agencies that own and manage the Turret chain.

Having carved itself a niche in the market, Turret purveys a range of high quality products like watches, writing instruments, travel accessories, handbags and jewellery from premium luxury brands such as Montblanc, 88 RUE DU RHONE and RAYMOND WEIL as well as Jewel Laurel, Turret's very own flagship brand, a name now synonymous with glamorous jewellery and exotic gemstones throughout Europe as well as in China and South East Asia. The clothing and travel accessories brand, United Colors of Benetton and its up-market extension Sisley, Calvin Klein's luggage and accessories, and a range of internationally famous fashionable watch brands such as Swiss Military, Hanowa, Timberland, GANT and Police are other top lines that are also available at this Turret outlet.

Raymond Weil has always strived to achieve watch-making excellence and use its know-how and expertise to meet the prerequisites of the much sought-after Swiss made label.

Yet another globally recognised brand of watches on display, 88 Rue Du Rhone is the second generation of the iconic Raymond Weil brand. The relatively new yet much acclaimed 88 Rue Du Rhone brand caters to the middle segment of the global wristwatch market.

The iconic Montblanc emblem is a symbol of excellence—the pinnacle of luxury writing instruments, timepieces, jewellery and leather and the brand has made an enduring commitment to encourage excellence through cultural advancement.

Established in 2006, Jewel Laurel specialises in genuine gems and diamond jewellery set in precious metals. Jewel Laurel is famed for its product authenticity and the unique designs of its jewellery, which are produced in-house by skilled craftsmen to ensure a superior quality and professional standard.

United Colors of Benetton and Sisley view fashion as a global village where people of every race live and evolve, overcoming geographical, political and ideological boundaries. These two renowned brands are now synonymous with style, panache and colorful designs for Men, Women, Kids together with a dynamic accessories range.

Hanowa is a well-established and globally recognised Swiss watch brand with a history of over 50 years. The watches are produced based on the brand's great expertise in the field of sports, performance and lifestyle and are made to match the stringent standards of the Swiss Watch making industry.

Swiss Military, connected to the Hanowa family of watch products and another brand with Swiss origins as its name says it, is known the world over for its rugged and sporty designs of watches, which are highly popular amongst today's youth market.

Timberland, an American manufacturer of clothes, shoes and accessories with a special product design that is more suitable for outdoor usage. The company prides of its rich New England heritage and an innate ruggedness is a signature of the brand.

The Turret outlet at KCC hopes to take the fashion scene at the hill country to higher levels by making these international brands available in Kandy, currently a bustling shopping hub of activity and one of the most prominent tourist destinations in the country.