---
Senior marketer Tharaka Ranwala has been appointed to the director board of Sampath Bank subsidiary Siyapatha Finance PLC as a Non-Independent Non-Executive Director with effect from July 28, 2015.

Tharaka is a Deputy General Manager of Sampath Bank P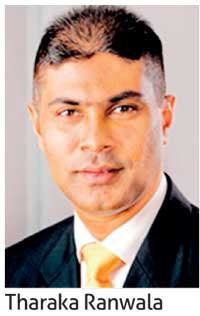 LC responsible for overseeing the areas of marketing, deposit management, development banking, credit cards and business development.

He has over 15 years of experience in the banking industry in roles in marketing and retail banking.

During this period, he had stints in brand management, corporate communication, market development, corporate social responsibility (CSR) and consumer and international marketing.

Tharaka possess a Postgraduate Diploma in Marketing (CIM-UK) and is a Chartered Marketer. He is a Fellow Member of CIM (UK) and a member of SLIM.
He is also a Certified Professional Marketer of the Asia Pacific Marketing Federation.

He has won a number of awards both locally and internationally, which includes the 'Brand Leadership Award 2006' and the 'Marketing Professional of the Year' in 2014, at the CMO Asia Global Brand Excellence Awards.

Tharaka is the Vice President of CSR Sri Lanka (Guarantee) Limited, which is the apex body for promoting CSR initiatives in Sri Lanka.