---
Star Packaging (Pvt) Ltd, the market leader for corrugated carton manufacturing, recently won the 'World Star Award' from World Packaging Organization at the 2015 awards ceremony held in Milano, Italy.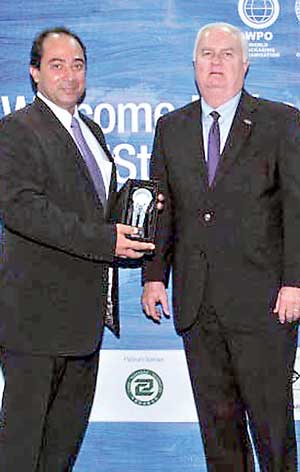 The award citation amply pronounced of their innovativeness and quality being extended to the world of packaging solutions and to the right expectation of their customers.

Star Packaging (Pvt.) Ltd., manufactures corrugated cartons under the brand name "Star Pack". With a State-of-the-art facility backed by the modern technology, in both board making and printing, coupled up with the experience and the expertise, the company has been able to cater to the perceived satisfaction of all users of corrugated cartons and allied products.

Since commencement of the commercial operations in November 2002, the company has been constantly striving in maintaining the Company's product quality and customer service, which has resultantly had a significant attraction in the market. It is "starring" in bulk packaging of all leading exporters & domestic users. No secret behind their differentiation other than the basis of its stringent quality standards and dedicated customer care. The company is an indirect exporter, supplying corrugated cartons to direct exporters such as tea, apparel, ceramics, rubber products and the like. Star Packaging is the market leader for corrugated carton manufacturing and also has the credit in being the first in its industry to be both ISO 9001:2008, ISO 14001:2004 certified by SGS and accredited by UKAS in Sri Lanka.

Huzaifa Abdulhusein, Managing Director of Star Packaging (Pvt) Ltd said that one significant dimension among few others in their 'company culture' is the company's strong customer-care practice which is being trickled down from senior management level to the shop floor.

He mentioned that every employee in the company appreciates the fact that customer care is everyone's business. "Corporate Social Responsibility has also remained an important element of the company's operations since its inception," Abdulhusein further added.

During their tour of business, Star Packaging has won many awards in the past, which includes The Presidential Export Award, The Provincial Productivity Award, National Productivity Award, Lanka Star, Asia Star and now the 'World Star'.