---
By Chandeepa Wettasinghe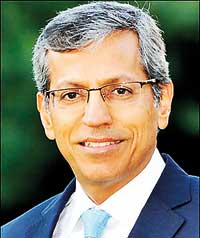 Sri Lanka is on the cusp of better political and economic change, according to the incoming regional head of J. Walter Thompson, which is part of the world's largest advertising company WPP PLC.
"While I understand there is still a bit of uncertainty, there is still optimism. The economy seems to be picking up, the political situation seems to be positive, media is changing and digital is becoming important," J. Walter Thompson South Asia CEO Tarun Rai said.
He noted that with changes come huge expectations which cannot be fulfilled overnight and that India, much like Sri Lanka had been expecting radical changes immediately following their May elections; positive vibes of which are starting to be felt only now.
"Change is beginning to happen, and everyone is hoping it will be a lasting change, and it is good change. So we're in similar situations," he said.
He was appreciative of the key role social media played in the past elections, into which his company would invest aggressively in the coming years.
"Whether we like it or not, young people and older people are interacting with media in different ways…and social media is democratic, you have to share or things go down," he said.
Rai said that J. Walter Thompson would also invest more in talent to coincide with this change in Sri Lanka, the first of which is in the form of a new CEO for the Colombo Office; Alyna Haji Omar who will take over duties in June.
"The time is perfect here. You are growing. I was surprised by the numbers. I wish India was growing its GDP at the rate you are growing," he said.
However, he was also appreciative of the positive aspects in the past.
"Colombo is fantastic, better than last time I visited 15 years ago. I see change. The political situation wasn't good back then… the police were everywhere," he said.
Rai, a graduate of the London School of Economics has been a part of the advertising agency for over 25 years, and had served as the Managing Director of J. Walter Thompson Mumbai from 2002 to 2008.
Prior to his return to J. Walter Thompson last month, he spent 7 years in print media as the head of Worldwide Media, a joint venture between BBC and Times of India.