---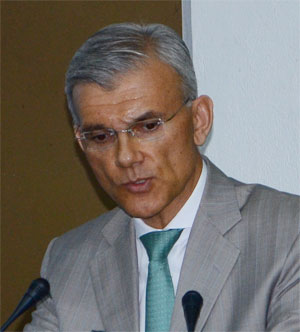 Highly respected economist Prof. Razeen Sally recently said it was imperative to have the right economic team that shares Prime Minister Ranil Wickremesinghe's vision in reforming and building the Sri Lanka's economy.
At a forum in Colombo, Prof. Sally pointed out that there was a "serious disconnect" between the country's Budget presented on November 20 and Wickremesinghe's policy statement two weeks earlier.
He stressed the need to have a credible policy maker to run the public finances in order carry out the much needed economic reforms.
"A country which is reforming successfully has to have a credible finance minister. Do I really need to say that?" he asked.
He questioned whether the Prime Minister has appointed the right people into the key offices around him who could establish the right systems that are required.
"The Prime Minister's instincts are good; he doesn't need to be persuaded on the broad case on the liberalization policy. But are those five people sitting in the Cabinet in charge of the key agencies the right people?
Or is it just one or two? One or two is not enough. You need four or five," Sally said.
He also queried as to why MPs Dr.Harsha De Silva, a trained economist and, Eran Wickramaratne, a highly respected private sector banker, are not in senior policy making positions.
"Why do I come across business people in Sri Lanka who had high hopes before the election now say that they keep hitting their heads against the brick wall when they face the realism because usually the minister here is either corrupt or one of those cronies."
"So clearly there's something not right," averred Professor Sally, emphasizing the need to appoint right people in to right places.
Drawing an example from Singapore, he said, among many other reasons, Singapore became successful because its first Prime Minister, Lee Kuan Yew and four other key officials who put the right system in place. Lee Kuan Yew was the political front man since 1960s.
Hence, Professor Sally stressed the need for good leadership, right people in right places and proper systems in place to drive the intended reform agenda.