---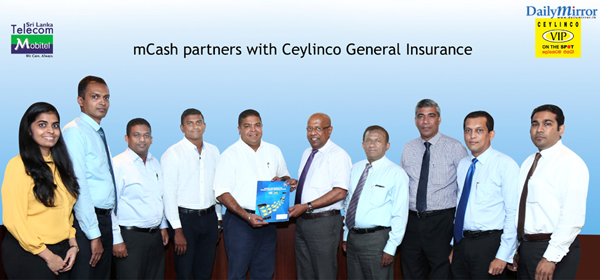 Caption - Mobitel Chief Executive Officer Nalin Perera exchanging the partnership agreement with Ceylinco General Insurance Managing Director Patrick Alwis. Also present from left: Mobitel Senior Product Executive Mobile Financial Services Asini Amaradiwakara, Mobitel Manager Mobile Financial Services Padmanath Muthukumarana, Mobitel Head of Mobile Financial Services Kalhara Gamage, Mobitel Senior General Manager Marketing Isuru Dissanayaka, Ceylinco General Insurance Deputy Managing Director Upali Withara, Ceylinco General Insurance General Manager City Roshan Ranasinghe, Ceylinco General Insurance Senior Manager Corporate Accounts Kishan Khan and Ceylinco General Insurance Marketing Manager Indika Abeyrathna.
mCash is the first to integrate as a mobile payment solution to power the newly-launched Ceylinco Customer App. Ceylinco General Insurance has partnered with mCash to offer third party insurance policies via the new Ceylinco Customer App, making mCash the only mobile payment solution available for payments through the App. mCash customers too can simply download the Ceylinco Customer App to pay third party insurance premiums. Ceylinco customers can also enjoy this service by registering for mCash by dialing #111#. This service includes all third party policies offered for motor cycles, three wheelers, hand tractors and motor vehicles through Ceylinco General Insurance. By leveraging on mCash to pay premiums via mobile devices, customers can conduct their insurance transactions anywhere and at any time.
Having experienced rapid growth over the years with a growing clientele, mCash has enabled its users to maintain a mobile money account to experience a whole new quick and convenient method of carrying out financial transactions. Licensed under the Central Bank of Sri Lanka, mCash provides a full range of services that include Top up, withdrawals, money transfers, paying utility bills, insurance premiums and leasing payments, settling payments for government taxes, making charitable donations and purchases for goods and services. mCash has an extensive Retailer network of 16,000+ touch points island wide including Mobitel Branches, SLT Teleshops and Singer Mega outlets, Supermarkets, Leading Banks, 650 + Commercial Bank ATM's for cardless withdrawals and 300 + Pay & Go kiosks located in central areas for mCash services. To register for mCash simply dial #111# from your Mobitel or Etisalat phone to get started.