---

Subashini Abeysinghe, Dr. Nishan De Mel of Verite Research, Dawn Autin of LF&VPPEA and Sonali Wijeratne of Department of Commerce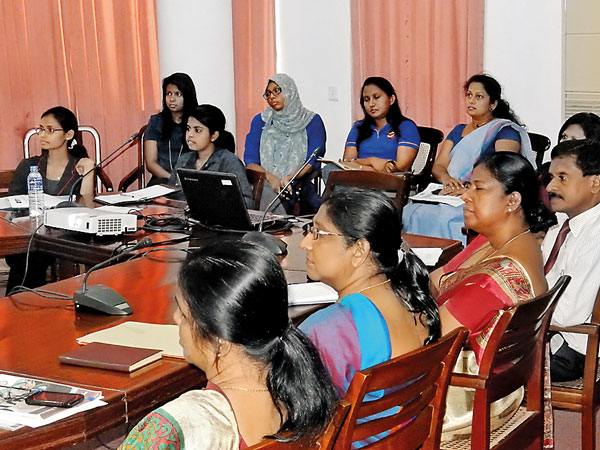 Participants ​



The Lanka Fruit and Vegetables Producers, Processors and Exporters Association (LFVPPEA), affiliated to the Ceylon Chamber of Commerce held a round table discussion with key stakeholders on 'Improving Trade with India: Mutual Recognition in Conformity Assessment'.


The discussion included a presentation based on the research findings of a study conducted by Verité Research in technical consultation with the LFVPPEA and the NCE. Non-tariff barriers (NTBs) have been identified as a key constraint faced by Sri Lankan exporters in entering the Indian market. The study examined one significant NTB, i.e. the delays and costs incurred proving compliance with Indian standards and technical regulations at Indian borders.
Verité's study proposes a Mutual Recognition Agreement (MRA) between Sri Lankan and Indian authorities as a solution to this problem. MRA will allow Sri Lankan exporters to get products checked for compliance at the Sri Lankan port and thereby prevent them from having to go undergo further checks and resulting delays and costs at the Indian ports.
Participants of the round table discussion included government officials from the Department of Commerce, Sri Lanka Standards Institution (SLSI), Industrial Technology Institute (ITI), Government Analyst's Department, Department of Animal Production and Health, Sri Lanka Accreditation Board, Ministry of Foreign Affairs, National Plant Quarantine Service, Sri Lanka Export Development Board, Consumers Affairs Authority and members of the exporting community.
The findings of the study generated much discussion among the stakeholders regarding the possibility of facilitating the implementation of a MRA at the institutional level and the challenges that needed to be overcome. These included improving the capacity and credibility of Sri Lankan labs and testing facilities. The need for institutions to work together, and the possibility of setting up a voluntary export inspection scheme as recommended by Verité, were also given due consideration by the stakeholders.