---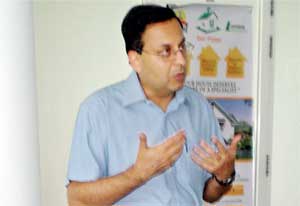 Lafarge Mahaweli Cement is on schedule with its Savi Piyasa housing programme and has now partnered with nine leading brands in the construction sector and two commercial banks to add value to its technical assistance scheme for individual home builders.
Under its 'Building better cities' theme Lafarge has helped many families around the world to have better yet affordable housing facilities and targets to provide decent housing to two million people worldwide by 2020.
In Sri Lanka, the company already provided architectural assistance to 220 families located in the Western and Northern Province. With the intention of providing even better options for its Savi Piyasa clients, Lafarge has now entered into partnerships with several leading brands, enabling them to receive special discounts on a large variety of building materials such as steel, paints, glass, PVC pipes, etc. Moreover, Lafarge has tied up with commercial banks and microfinance institutions to provide its customers with easy access to loan facilities.
Addressing a special event that brought together its collaborators at Cinnamon Lakeside, Lafarge Mahaweli Cement Managing Director Anurag Kak said, "We started this programme an year ago and we have been getting a lot of positive feedback. A package integrating architectural assistance, special discounts and financial facility has not been offered in Sri Lanka before, so I am confident that the individual home builders in the country will find interest in this turnkey solution."
Brand managers from all the partnering companies were present at the event with their product portfolios. Well-known names in the construction sector such as Orange Electric, leading manufacturer and supplier of electrical products, leader in PVC pipes S-Lon, Elephant Masonite supplier of world-class roofing sheets, Ceylon Steel Corporation, Nippon Paints, Rocell, Ashoka Glass and Frostaire were partnering Lafarge in the Savi Piyasa project.
Habitat for Humanity, an NGO, which constructs housing in various parts of the island has also partnered with Lafarge to provide affordable housing to their members. The two financial institutions that are part of the project are trusted names in the industry namely Seylan Bank and Hatton National Bank.