---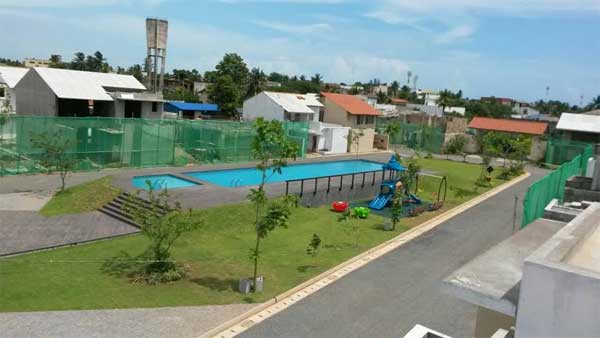 ​

Kelsey Homes recently unveiled the model homes of its two billion rupee housing development, Templer's Square. Potential buyers were able to view a variety of model homes as well as the common facilities within the complex, including the club house, gymnasium, swimming pool, restaurant, steam room, sauna room, kiddies play area and jogging track. The complex also offers 24 hour security with CCTV monitoring, to ensure the safety of all residents.



Templer's Square is located at No. 7 De Soysa Mawatha, Templer's Road, Mount Lavinia, and offers homeowners a beautiful and affordable home in an extremely convenient location. The exclusive gated community development is designed by renowned architect Murad Ismail and a total of 84 out of 100 homes have already been sold.

Commenting on the quality of Templer's Square and the high demand for the homes, Chaminda Jayasuriya, General Manager, Kelsey Homes stated, "Templer's Square is an exceptionally well designed housing development that is conveniently located in the heart of Mount Lavinia, with easy access to schools, restaurants and other city attractions within Colombo. The property offers our clients the privacy and security of a gated community along with modern facilities and a quiet neighbourhood where they can enjoy comfortable living. There has been an immense demand for Templer's Square homes and over 80% of homes are already sold. Although only a few houses are still available, prospective buyers still have the opportunity to select their dream home at Templer's Square."

With the completion of the Marine Drive extension in 2015, residents of Templer's Square will be able to access Colombo and its suburbs with ease and convenience. The gated community with 100 landscaped houses contains a mix of two, three and four bedroom houses with prices starting from Rs. 17.5 million. Completion of the development is scheduled for the middle of 2016 and prospective buyers are welcome to visit the site from 8.30 a.m. to 5.00 p.m. on all seven days of the week.

Commenting on why a Templer's Square home is such a valuable investment, Riaz Usoof a banker who recently invested in a home within the complex stated, "I heard about Templer's Square from a friend who was working with me in Saudi Arabia. He was on holiday in Sri Lanka and I was oversees when I received his call about the Templer's Square development and its potential as an investment. Having relatives who live in gated communities in Dehiwela, I was familiar with the concept and was keen to invest in a Templer's Square home, which offers the very best in design at an affordable price. The homes are situated in a convenient location and are private, safe and exclusive, and this makes them an excellent investment."

Kelsey Homes is also in the process of developing another gated community in Negombo. Verdant Villas is another large scale housing development by Kelsey Homes, which will provide homeowners with a beautiful home, in the colourful and vibrant seaside town of Negombo.

Templer's Square is being developed by Kelsey Homes (Pvt) Limited a wholly owned subsidiary of the listed entity Kelsey Developments PLC. Established in 1983, Kelsey Homes is a trusted leader in creating better built environments and has over 30 years of experience in the real-estate industry. The company is dedicated to providing its customers with high quality, beautifully designed homes that ensure a valuable return on investment. As a reflection of the company's confidence and commitment, all homes include a 12-month defects liability period and a 10-year warranty on the structure.