---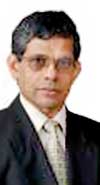 Economist R.A. Jayatissa has been appointed as a member of Central Bank of Sri Lanka's Monetary Board with effect from April 10, 2015 by President Maithripala Sirisena.
Jayatissa has served as a board member in several institutions, including People's Bank, Sri Lanka Ports Authority, Sri Lanka Insurance Corporation, National Development Bank and was also a member of the National Economic Council.
He also served as the Alternate Executive Director in the International Monetary Fund, Washington DC for 4 years and subsequently held the positions of Deputy Secretary to the Treasury, Ministry of Finance and Planning, Senior Consultant – Academy of Financial Studies, Ministry of Finance and Planning and Chairman of Sri Lanka Insurance Corporation.
He joined the Central Bank as a Staff Officer in 1975 and held many key positions in the Central Bank including the position of Director, Economic Research for a period of 5 years prior to his promotion to Assistant Governor.
He has participated in many bilateral and multilateral policy discussions with international financial institutions as a member of the official delegation representing Sri Lanka.
Jayatissa holds a BA Special Degree in Economics from the University of Peradeniya, Master's Degree in Development Economics from Williams College, USA and Master's Degree in Political Economy from Boston University, USA.
He has authored many articles and carried out research studies in the fields of trade, finance, debt and exchange rate management.