---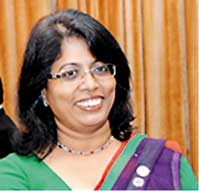 The Institute of Supply and Materials Management is scheduled to conduct a full-day workshop titled "Create Value for your Business through Effective Procurement" on 07th August from 9.00 a.m. to 4.00 p.m. at Hotel Renuka, Kollupitiya.

The Workshop will cover such contents as Role of Procurement in Supply Chain Management, Procuring the Right Material, Managing Supplier Performance and Relationships, Managing Costs Strategically, e-Procurement, and Global Sourcing. The resource person of the workshop is supply chain trainer and lecturer Gayani de Alwis, former Director, Customer Services of Unilever, responsible for Supply Chain during her 19-year tenure with Unilever locally and overseas.

She has worked in Supply Chain, R & D and Quality Assurance prior to her early retirement from Unilever to start her own Consulting and Lecturing career. She was the first Lead Auditor appointed from South Asia and has audited nearly 50 + manufacturing and Supply Chain operations across Unilever. She holds a MBA from the Postgraduate Institute of Management of the University of Sri Jayawardenapura and an MSc in Food Processing from the University of Reading, UK. She is also a Certified Supply Chain Manager (CSCM) from ISCEA, USA.

Gayani is the founding Chairperson of Women in Logistics and Transport (WiLAT) Forum Sri Lanka. She is a Fellow Member and Vice President of ISMM and a Chartered Member and a Vice Chairperson of CILT. Currently she is a Consultant to many leading Blue Chip companies and a Visiting Faculty Member of several national universities.

Registrations for the workshop will be accepted up to 30th July at the Institute of Supply and Materials Management, OPA Building, Colombo 7.
E-mail: accountismm@gmail.com.