---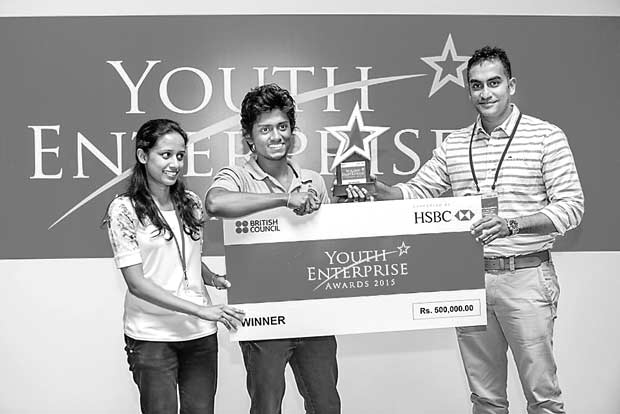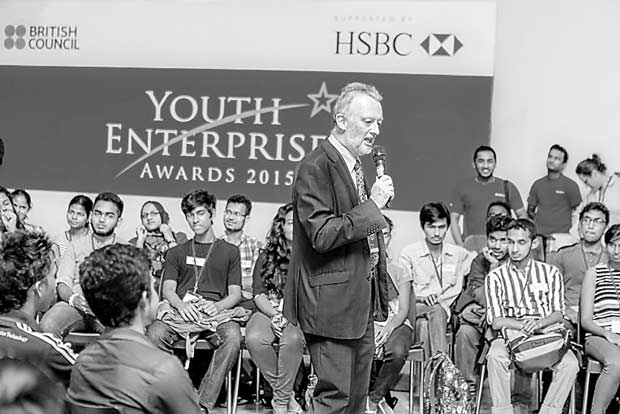 HSBC Youth Enterprise Awards jointly organised by the British Council and HSBC is a business plan contest aimed at recognising and supporting young entrepreneurs in Sri Lanka to start-up their businesses.

The competition, which is open to Sri Lankan postgraduates, undergraduates and students aged 18 to 35 years currently pursuing their studies at universities, private higher education institutions, technical and vocational institutions and professional training bodies in Sri Lanka, encourages students to submit their business ideas as individuals or in teams under any of the given industry categories: agriculture, education and health.

A total of 53 business ideas were selected from the pre-event workshops that were held in Colombo, Kandy and Jaffna and the young entrepreneurs behind these proposals were invited to pitch their creative ideas to a panel comprising of Keith Davies – Country Director British Council Sri Lanka, Akila Ramanayaka – CEO Thambili Island Travels, Niroshi Siriwansa – Head of Business Development, Colombo Leadership Academy, V. Kumaraguru – Founder and Director, The Mentor International, Country Manager, Youth Business Sri Lanka, Dineth Nanayakkara – Country Director, Global Payments and Cash Management HSBC, Sunesh Rodrigo – Founder Vantage Consultancy and Chandrani Samaradivakara – Lecturer in Marketing.

The participants also received essential skill training in Presentation and Meeting Skills delivered by Clea Mcdonald - Professional Skills Trainer British Council
Sri Lanka.

The business pitches took place at MAS Innovation Centre, Colombo 02. After the 53 pitches, the judges announced the best 19 business ideas and these individuals and teams were requested to spend the night at MAS Innovation Centre, 'hacking' their ideas and preparing their final pitch to the judges, which was to take place the afternoon of the next day. The venue buzzed with dynamic young entrepreneurs as they worked through the night, fine tuning and practicing their business pitch for the next day's tough judging panel.

Twenty-four hours later, the teams presented their ideas once again. The judging panel selected the most innovative and feasible business plans by listening to the pitches and asking probing questions about their proposed business and revenue models.

Buddhika Jayawardena and Jayamini Rodrigo from team SIPLO representing the University of Moratuwa emerged as winners, with their idea for an online tutoring platform that bridges the gap between student and tutor. The first runner up award went to team Biz Mora for their innovative 100% natural substitute to artificial food products currently available in the market. Team Handheld Field sorting cart was adjudged Second Runner up for their product designed to sort produce during harvesting stage. Two commending prizes were awarded to Team Canister Filter and Team Ceylon Delicacy. Winners will receive cash prizes as seed capital as support in establishing their businesses. The winning team received Rs. 500,000, the first-runner up Rs. 200,000 and the second runner-up Rs. 100,000. Teams that won the commending awards were each presented with Rs. 50,000.

Keith Davies, Country Director British Council, said: "This was the fifth year we organised this competition in partnership with HSBC, one of our most valued partners not just in Sri Lanka but across the global network of the British Council. This is a long-term investment in the entrepreneurial youth of Sri Lanka by HSBC and the British Council because both our organisations believe that future prosperity of any nation lies in the hands of today's youth."
"The Youth Enterprise Awards encourages young Sri Lankan entrepreneurs to venture out with new ideas and gives them the right exposure to develop these into viable business propositions. Recognising and supporting young talent is essential for the growth of the country. HSBC together with the British Council reach out to talented young people through this programme with the aim of helping them realise their full potential," said Patrick Gallagher, CEO for HSBC Sri Lanka and Maldives.

The British Council has pioneered a number of initiatives to promote graduate entrepreneurship in Sri Lanka. By working closely with the Ministry of Higher Education, University Grants Commission, vice-chancellors and lecturers in Sri Lanka and the UK's entrepreneurial universities, the British Council is helping to develop policies and programmes to develop entrepreneurship education within universities.