---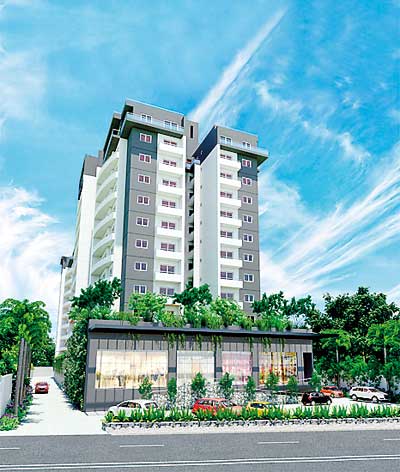 One of the leaders in the Sri Lankan real estate industry – Home Lands Skyline Pvt. Ltd., a fully owned subsidiary of Home Lands Pvt Ltd headed by Nalin Hearth recently added another brand to the company's flagship condominium project 'Luxe Highway Residencies' which is a 112 apartment twin tower project with all the modern amnesties to fulfill demands of urban vertical luxury living in Kottawa.

Once completed 'Luxe Highway Residencies' will have on the premises a supermarket, bakery, café and a restaurant, beauty parlor, ATM, pharmacy, clothing store and a laundry to meet aspirations for convenient living.

In today's world, living in an apartment now becoming popular because of the life style change, ease of maintenance, security and safety, privacy within a close community, easy and economical access to amenities, and in close proximity to anything you need. Apartment ownership goes beyond just sumptuous living, living in an apartment is also energy and eco-environmentally efficient according to many environmentalists. On the other hand, apartments have been one of the most stable and safe types of real estate investments and they have performed significantly better than other types of investments. Luxe Residencies offer an early mover advantage in a fast developing locality, where the asset value is expected to rise rapidly.
According to the company officials, 'Luxe Highway Residencies' is a Twin Tower Condo project where both towers will rise to 11 floors and will have 112 apartments including 8 penthouses. Conceived, designed, and presented by one of Sri Lanka's leading players in property development, Luxe Highway Residencies brings sumptuous modern vertical dwelling to the emerging city of Kottawa, which is poised to be an important economic centre of the island.
Luxe Residencies that plans to have a large rooftop garden with a BBQ Pavilion, provides a breathtaking panorama of the scenic surroundings. Space for social and recreational activities in the city and impressive amenities and community features offer all the modern conveniences you expect.
Officials at Home Lands Ltd said that to meet the needs and preferences of homeowners; Luxe Highway Residencies offers four different apartment designs - from 2 Bed Room Apartments for those who prefer manageable space of living to sprawling Penthouses for spacious vertical dwelling. All units are fully air conditioned with split type units which are fully fitted with a modern pantry with gas connection. Three bed room apartments come in two different designs and the sprawling Penthouse is for those who longed for luxury with ample space for dining, entertaining, living, recreation, working and working out. The Penthouses can be customized to suit the needs and preferences of the potential home owners. At the completion of the project each Apartment will have its own reserved parking space while Penthouses have two parking units, while fifteen parking spaces are reserved for guests.
The Condominium will also include a state-of-the-art gym that provides a convenient place to build up a sweat, and a Pool which is the perfect place for residents to relax. There will also a community hall for socializing and a function room to host
celebratory events.