---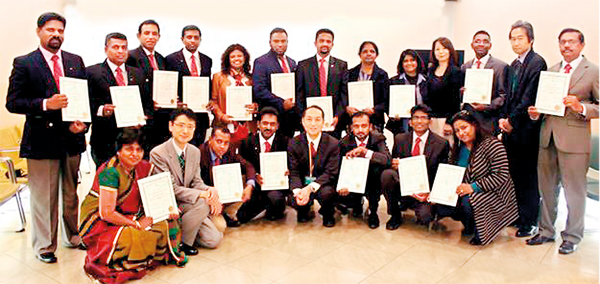 Seventeen Sri Lankan senior managers participated in this year's 'Programme on Corporate Management for Sri Lanka' (LKCM) conducted by the Overseas Human Resources and Industry Development Association (HIDA) Japan, recently in Osaka, Japan.
The programme aims to offer participants hands on experience and knowledge on management philosophies and strategies employed by Japanese companies.
The ten-day study programme consisted of study tours to world-renowned Panasonic Museum, Toyota Commemorative Museum of Industry and Technology and Toyota Corporation, among others.
The HIDA Japan is an organisation that involves in human resources development in developing countries, promoting technical cooperation through training and experts dispatch and other programmes. Through these programmes, the HIDA aims at contributing to mutual economic growth as well as enhancing friendly relations between developing countries and Japan.
The LKCM is one such management training programme mainly designed for directors and senior managers in Sri Lanka to upgrade their corporate management capabilities.
The Japan Sri Lanka Technical and Cultural Association (JASTECA), established in 1984 and a non-profit service organisation, functions as the alumni of the HIDA Japan.
The Executive Committee and the membership of JASTECA consists of returned trainees of AOTS/HIDA scholarship programmes, who have volunteered their services to coordinate scholarship activities and also to disseminate knowledge and expertise gained in Japan to other Sri Lankans.