---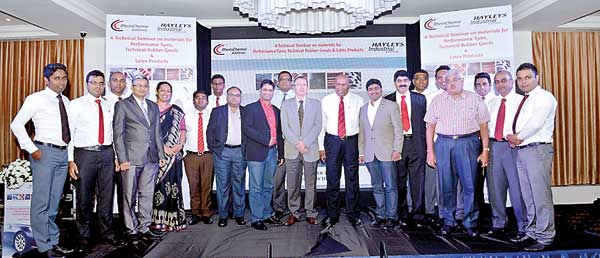 Rhein Chemie Additives, a Lanxess Business Unit affiliated to Hayleys Industrial Solutions, jointly organised a technical seminar for performance tyres, technical rubber goods and latex products recently at the Kingsbury Hotel.
The seminar was graced by Hayleys Group Chairman and Chief Executive Mohan Pandithage as well as Hayleys Industrial Solutions Managing Director Dr. Arul Sivagananathan.
The welcome address delivered by Tyronne Ockersz gave a brief introduction on Hayleys Industrial Solutions and the status of the local rubber and latex market. Rhein Chemie Additives Head of Global Sales Mario Negri, an expert in this field with over 25 years of experience, gave an overview of the company's business as well as future plans for the rubber and latex industry in Sri Lanka.
Arindam Gosh, Jayant Wad and Hitesh Shah, all experts from Rhein Chemie India, also enlightened the attendees with technical insights as well as new product innovations in the global rubber and latex market. Rhein Chemie India General Manager Sriganesh U.P. delivered the vote of thanks. Attendees at the seminar were able to interact and share knowledge with the experts who were present.
The senior management and officials from all major tyre and non-tyre manufacturing companies, world-renowned latex manufacturing entities, academia as well as industry service providers were in attendance. Overall, the seminar was successful in expanding the knowledge base of the local entities as well as providing a good networking opportunity to all involved in the local rubber and latex industry.