---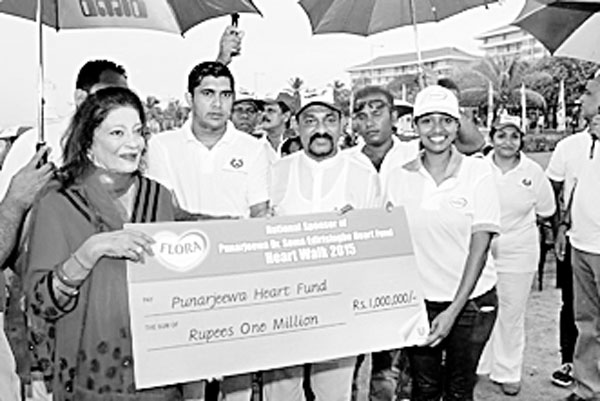 Unilever Sri Lanka Flora Brand Manager Bianca de Silva handing over sponsorship cheque to Soma Edirisinghe



In a reflection of a consistent commitment to developing a healthy lifestyle, Flora recently joined hands with Punarjeewa Dr. Soma Edirisinghe Heart Walk 2015 as the national sponsor for the event.


The Punarjeewa Health Walk was held to generate a greater awareness of the importance of heart health and raise funds to support those who cannot self-fund heart surgeries. The event was successfully held recently– a large crowd took part in the walk that was held from Nelum Pokuna Theatre to Galle Face.
Flora, recognised as a healthier spread for bread which is 10 percent less fat than other fat spreads combines the goodness of sunflower and canola oil, also rich in Omega 3 and 6, has always maintained a strong commitment towards empowering people to stay healthier. In keeping with its mission of encouraging healthy eating, Flora actively participated in the Punarjeewa Health Walk by offering free BMI tests and Flora's nutritionists were at hand to provide guidance on healthy living.
"Flora will continue to engage with consumers through activities that encourage and empower communities," said Unilever Sri Lanka Flora Brand Manager Bianca de Silva.