---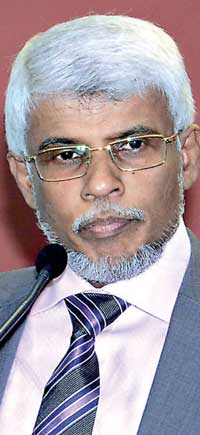 By Shabiya Ali Ahlam
In an effort to achieve greater economic prosperity, the emerging Eastern Province is gathering steam to showcase its potential and untapped opportunities to investors early next year.
As the region continues to thrive to improve the investment climate and encourage the inflow of domestic and foreign investment, the Eastern Provincial Council Chief Ministry yesterday announced it will facilitate the second International Investment Promotion Forum that will kick off on 28 January 2016. The event expects a full packed audience of 500 participants.
The two-day event that will take place in Colombo is conceptualised with the objective of providing a critical assessment of current trade and international climate, identifying specific FDI needs and opportunities in the province, encouraging multi-lateral cooperation between international investors, role-players, academic institutions, business practitioners and policy makers, and showcasing the key development initiatives in the East.
"The unity administration that came in after the establishment of the new government has created a conducive environment in the East. As the region has gone through changes in a number of facets, we firmly believe that the second 'Invest in East' forum will not only have a huge positive impact on the region," said a highly confident Chief Minister Eastern Province Naseer Ahamed to journalists yesterday in Colombo.
It was pointed out that although the first edition of the Invest in East forum, which took place on January 2014, attracted over 280 participants of whom 100 foreign investors visited the region to explore their options, only 12 pumped their money in.
"Unfortunately the investment climate at that time was not conducive enough for to put their money in. Now, with greater commitment, and keen interest expressed in uplifting the region, we are certain the outcome this time will be greater," said Ahamed.
According to the Chief Minister, the opportunities on offer currently are in agri-businesses, aqua culture, livestock, education and training, tourism, transportation and public infrastructure.
While the first day would see the facilitation of the technical sessions, on the second day interested investor will be provided the opportunity of have face-to-face discussions with the local counterparts.
The event is conducted in collaboration with the Ministry of Development Strategy and International Trade and the Ministry of Christian Affairs and Tourism Affairs.
Institutional support is extended by the Board of Investment (BOI), Sri Lanka Tourism Development Authority, Sri Lanka Convention Bureau, International Chamber of Commerce, Batticaloa District Chamber of Commerce, Industry and Agriculture, and the Chamber of Tourism and Industry Sri Lanka.