---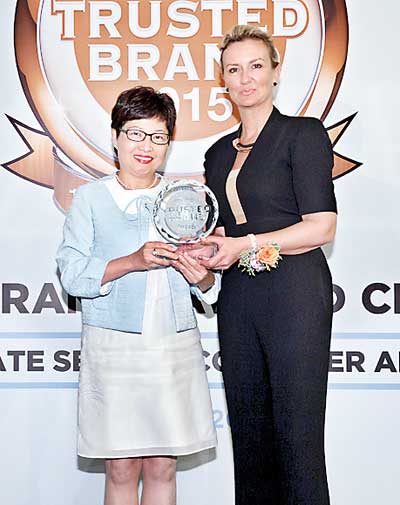 DHL, the world's leading logistics company, scooped its seventh consecutive Trusted Brand Award in the 'Airfreight/Courier Service' category in Asia at the Reader's Digest Trusted Brands Awards 2015.

Beating the competition in five major markets, DHL extended its market-leading positions in Hong Kong, Singapore and Taiwan by winning the Platinum awards – a first for Taiwan which achieved Gold in 2014. DHL Express Malaysia retained its position as market leader with another Gold award; it was joined at the top by DHL Express Philippines, voted Gold by readers for the first time.

In its 17th year, the Reader's Digest Trusted Brand award is based on a survey comprising approximately 5,000 respondents in seven markets across Asia - Hong Kong, Taiwan, India, Malaysia, Philippines, Singapore, and Thailand. DHL has secured top rankings in all markets whose Trusted Brand Awards feature the 'Airfreight/Courier Service' category.

Jerry Hsu, CEO, DHL Express Asia Pacific said, "Every company can have a great year but delivering consistent excellent service year after year is what counts when it comes to gaining the trust of customers and being the reliable partner they need to grow their businesses. Trust is at the heart of our brand and DHL has been building that trust in Asia for over 40 years. To have our achievements independently benchmarked in such a respected program as the Reader's Digest Trusted Brand Award inspires us to set the benchmark ever higher. I am very proud that we have clearly improved our performance, particularly in Taiwan and the Philippines, in the past year.

"Currently, we are accelerating our investment in new fuel-efficient vehicles to cut CO2 emission and enhance operational efficiencies. Keeping our customers' needs in mind, we continually expand our service offerings and also added capacity between Asia and the US, and intra-Asia. At DHL, we know that to succeed, we must keep customers satisfied, design innovative products and deliver the best service."

The Reader's Digest Asia's Most Trusted Brands surveyed approximately 5,000 readers to score companies based on trustworthiness, credibility, quality, value, and understanding of customer needs, innovation and social responsibility. By beating its closest competitors with significantly higher scores, DHL in Hong Kong, Singapore and Taiwan were conferred the Platinum award. To achieve the Gold standard in Malaysia and Taiwan, DHL must be a clear market leader in its category. To receive the prestigious overall Asia's Most Trusted Brand Award, it needed to be a leader in three markets. In 2015, DHL has extended this lead from four to five markets.

DHL is at the forefront of innovations, new services and routes that set the standard for the international delivery of time-sensitive shipments in the region and beyond. In 2014, DHL invested in new vehicles with more fuel-efficient engines, including electric and battery-operated ones. Energy efficiencies were also achieved across the region through more efficient ground operations, energy-efficient buildings, better climate control management and new IT infrastructure. These achievements, supported with staff commitment in every country to adopt best practices, offer suggestions and solutions that make the business more sustainable, has helped DHL achieved a 23 percent improvement in 2014 in its group-wide program to achieve a 30 per cent CO2 efficiency improvement by 2020.