---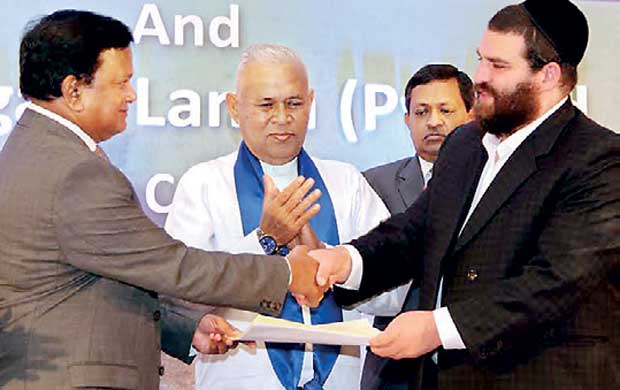 MG Sugars Lanka Director Mendel Gluck receiving the BoI agreement from BoI Chairman Upul Jayasuriya. Land Minister M.K.D.S. Gunawardena is in the centre
Pic by Kithsiri de Mel


By Lahiru Pothmulla
The Board of Investment (BoI) yesterday inked an agreement with MG Sugars Lanka Private Limited to revive the defunct Kantale Sugar Factory, which has been closed down for more than two decades.

MG Sugars Lanka Private Limited is a public-private partnership between Bangalore-based Shri Prabulingeshwar Sugars Chemicals Ltd, Singapore's SLI Development Pte. Ltd and the Sri Lankan government.

The government will have 51 percent of the shares of MG Sugars while the two foreign parties will have 49 percent. The agreement was entered on a Built, Operated and Transfer (BOT) basis.

The total investment of the 30-year project amounting to US $ 110 million will be borne by SLI Development Pte. Ltd and Shri Prabulingeshwar Sugars will function as the technical partner.

Shri Prabulingeshwar Sugars is an experienced group of companies engaged in sugarcane cultivation, sugar manufacturing, co-generation of power plants and dairy industry.

Dr. I.H.K. Mahanama, the Secretary of the Lands Ministry, which administrates the lands for the project in collaboration with the Lands Commissioner General's Department, said Lands Minister M.K.A.D.S. Gunawardena had submitted the Cabinet proposal to revamp the factory in February.

He said the Cabinet Sub-Committee on Economic Affairs headed by the Prime Minister had referred the proposal to the BoI for a thorough study and advised the management of the factory to be handed over to MG Sugars Lanka Private Limited within three to four weeks. Addressing the event, BoI Chairman Upul Jayasuriya said brand-new machinery would be installed and the annual capacity of the factory would go up to 72,000 metric tonnes.

Meanwhile, MG Sugars Director Mendle Gluck said they were hoping to launch the factory operations this October.
"After so many attempts we were able to get the green light for the project with the approval of the Lands Minister," he said.

Minister Gunawardena said the agreement to revive the sugar factory could be considered as the biggest achievement of the new government.
The investor and the BoI said they hoped to provide 1,220 direct employment opportunities and 15,000 non-direct employment opportunities to Sri Lankans. Generation of electricity and dairy products are the by-products of the main agreement.

The Kantale Sugar Factory was constructed in 1957 as a grant offered to the country during the tenure of the then Prime Minister S.W.R.D. Bandaranaike by the government of Czechoslovakia and it was opened in 1960.

It had been functioning as a profit-making venture until 1986. Thereafter it ceased to be an income-earning enterprise and the attempts made to identify a suitable investor had been futile.