---
But cautions on possible weakening capitalization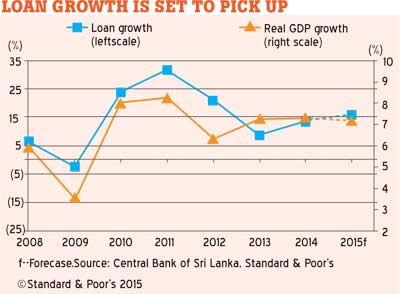 The Sri Lankan banking sector credit growth could gradually pick up to 15 percent to 17 percent levels from the 13.7 percent level seen in 2014 amid lacklustre demand for private credit and relative drop in credit to the government from the banking sector last year, according to one of the leading global rating agencies.
However, excessive credit growth over and above the target levels could build pressure on the capital levels of some banks as the deposit growth is unlikely to keep pace amid lower interest rates.
Deposits have been the main source of funding (credit) growth for Lankan banks and during the past decade the banking sector deposits have grown at an average of 16 percent per annum.
"Lower policy rates, the partial credit guarantee for the pawning segment and lower interest rates banks charge in key segments should support credit growth," Standard & Poor's Rating Services (S&P) said in a recent research report on the Lankan banking sector.
Meanwhile, Sri Lankan economy is in the midst of a transformation where the domestic and external consumption demand is rising with growing income levels triggering demand for consumption credit.
S&P further believes that the strong tourist arrivals, construction of new hotels and restaurants will also increase domestic demand, triggering demand for bank credit.
Sri Lanka's private credit did not pick up despite very low nominal interest rates as the real interest rates were too high providing no incentive for the borrower to seek bank credit.
However, S&P cautions if the credit growth exceeds the expectations, "banks could find it difficult to build deposits to match the higher credit growth leading to an increase in competition and deterioration in funding profiles."
"The share of deposits in overall funding for Sri Lanka's banks is likely to drop over the next three to five years because we expect loan growth to pick up faster than deposit growth," S&P further said.
However, deposits will continue to have a dominant share in banks' funding mix.
"A sharp pickup in credit growth above our base case could weaken capitalization levels for Sri Lanka's banks," it said adding that capitalization levels of Sri Lankan banks are overstated due to zero-risk weight on pawning advances, which underestimates the risk of volatility in gold prices.
The reported Tier I capital adequacy ratio of the banking industry has also declined to 13.1 percent as of December 31, 2014 from 14.9 percent a year ago. The Central Bank targets an 18 percent private sector credit growth for 2015. However, on the positive side, the banks operate with higher liquidity, above the regulatory minimum and thus could liquidate some of their investments to fund loan growth, enabling them to maintain their funding profiles in 2015. "The regulatory Statutory Liquid assets Ratio (SLR) (the ratio of regulatory liquid assets to total liabilities or deposits) could dip but it will still remain well above the regulatory requirement," S&P said.
This ratio for the banking sector stood at 39.5 percent as of December 31, 2014, highest in the past five years and almost doubled compared with the minimum requirement of 20 percent. S&P however said its expected credit growth is not a significant risk for the banking system, given the relatively high nominal GDP growth.