---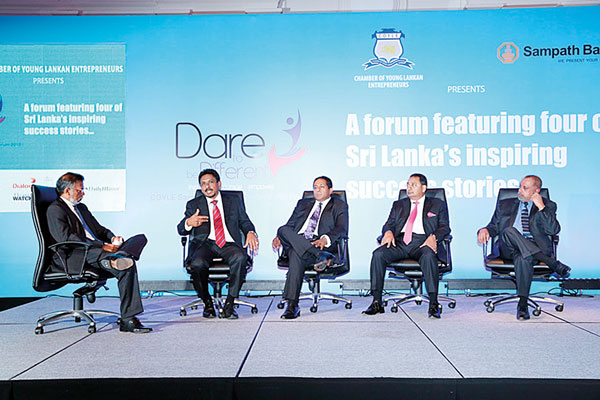 From left: Arittha, Lalith, Kalana, Niral and Rohan



The COYLE Sampath Bank Entrepreneurial Forum 2015 kicked off with four panellists speaking about their personal journeys and the challenges they faced along the way to success and how they overcame each challenge.


Based on the principal of inspiring, encouraging and empowering a next generation of entrepreneurs through real-life success stories of COYLE members, this year's panellists included Rohan de Silva, Chairman/Managing Director, McLarens Group of Companies, Lalith Kahataptiya, Chairman, K.I.K. Group of Companies, Kalana Hewamallika, Chairman/Managing Director, Interpharm (Pvt.) Ltd & Gamma Pharmaceuticals (Pvt.) Ltd and Niral Kadawatharatchie, President, Freight Links International (Pte) Ltd.
Each panellist kicked off the session with a brief overview of his journey, challenges faced and accomplishments. Sometimes funny, sometimes emotional and most times upbeat, the panellists shared their stories to an audience of over 350 people who listened, learned and loved every minute of the event.
Dr. Arittha Wikramanayake, who moderated the forum, brought out the best in these panellists by asking them pertinent questions relating to their individual stories.
Special guest Kumar Sangakkara spoke about his journey to becoming a world-class cricketer.