---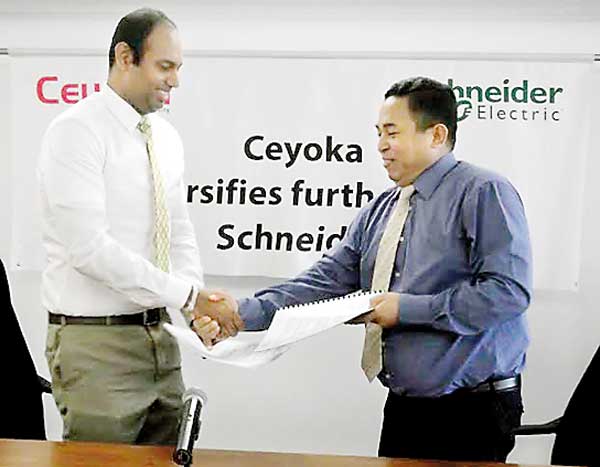 Ceyoka (Pvt.) Ltd announced that it had entered into a landmark distributor agreement with Schneider Electric, the global specialist in energy management, for its lighting control products.
Ceyoka, through its Engineering Division, is recognized as a leading supplier of professional lighting solutions. This groundbreaking agreement enhances Ceyoka's market offering as a one-stop comprehensive and dynamic solution provider of both professional lighting and lighting control products for installations across residential, hospitality, commercial and industrial sectors.
"This is a milestone for Ceyoka," said Ceyoka (Pvt.) Ltd General Manager Professional Lighting Harenda Jayasuriya. "From a holistic point of view, Ceyoka now provides lighting and lighting control systems, one complete end-to-end solution for clients."
"This agreement provides our customers with a new level of expertise and delivery of world-class technical solutions with a partner that boasts a large footprint," Jayasuriya added.
Commenting on this landmark agreement with Ceyoka, Schneider Electric Country Manager Sri Lanka, Bangladesh and Maldives Pradeep Saikia said, "We are very selective about whom we associate, in delivering the solutions. We require partners who can give confidence to the end client. We have tied hands with Ceyoka, the biggest part of the value delivery."
Recognising Ceyoka's capabilities in supporting their solutions, Saikia added, "We work with partners who ensure that all our high-tech solutions get translated to day-to-day useable solutions. Their technical expertise, knowledge and good pool of resources to support the installation is important."
Confirming its stature in the professional lighting space, Ceyoka Engineering secured its first contract recently. Sri Lanka's leading general contractor, International Construction Consortium (Pvt.) Ltd awarded Ceyoka Engineering an impressive contract to supply and install Schinider Electric's Room Control System for their proposed luxury boutique hotel under construction in Yala.
Through its new lighting portfolio, Ceyoka can provide controlled and efficient lighting solutions using intelligent designs and innovative technologies. Paramount is the ability to reduce energy consumption and operating costs.
Jayasuriya noted, "We provide a flexible solution. It's all about convenience and efficient energy management – of a home, a corporate building or even a hotel; to reduce energy consumption and engage in an accurate way of distributing energy throughout the building."
Ceyoka now offers Schneider's C-Bus control systems. Renowned as one of the most comprehensive energy-saving systems in the lighting automation industry, the C-Bus system helps to reduce lighting energy up to 50 percent by automatically switching off lights when rooms are not occupied or by reducing the amount of artificial light when natural daylight is available.
Adding a suitable lighting control system to the existing building infrastructure is another solution offered by Ceyoka. Through Schneider's retrofit systems, intelligent lighting control components can be installed seamlessly to the existing lighting installation. Ideal for residential purposes, home owners can now enjoy lighting control systems with minimum interruption, controlling energy consumption.
Commenting on his team's ability to understand and meet the unique energy needs of its vast clientele, Jayasuriya added, "We have the in-house talent to make the necessary changes as per the client's requirements. Our experts can handle every aspect of the lighting control system."
Ceyoka Engineering is a pioneer in road and building construction, water treatment and drainage system installations, bridge construction, water proofing and professional lighting in the country. The Lighting Division is a leading specialist in lighting solutions in Sri Lanka and provides innovative energy efficient lighting solutions for various needs of developers.