---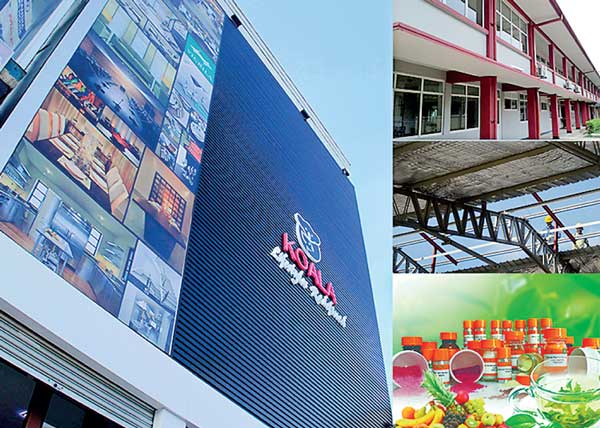 Inspired by a clear vision and entrepreneurial talent, Ceyoka (Pvt.) Ltd has transformed from a modest trading firm into a major diversified business conglomerate with strategic investments. Today, Ceyoka is deservedly recognized as a leading light in Sri Lanka's business landscape, an enterprise with multiple drivers of growth and as a catalyst for the promotion of industry, as well as social progress.
Leveraging opportunities of Sri Lanka as an emerging economy, Ceyoka delivers value to all stakeholders, building on the collective strengths and synergies of the group and thriving on enduring relationships with renowned global companies.
"We have succeeded in building a robust portfolio in line with our objectives, each business vertical has its own unique strengths and complexities," said Ceyoka (Pvt.) Ltd Managing Director Harshith Dharmadasa.
"Ceyoka has diversified business interests and is a major player in all the sectors it operates in and we strive to create as much value as we can in our businesses."
Ceyoka Health, an integral business unit of Ceyoka, aims at providing the nation better access to healthcare products through the import and distribution of pharmaceuticals, surgical equipment and medical devices. Serving both the government and private sector institutions Ceyoka Health has to-date achieved an excellent record of industry firsts including introducing advanced needle-free technology revolutionizing the future of vaccinations in the country and also offers dialysis services and products by joining hands with Fresenius Medical Care, which is the world's leading provider of products and services for chronic kidney failure.
Ceyoka Health was also instrumental in signing a milestone exclusive commercial agreement with Eurofarma, one of the largest pharmaceutical companies in Brazil, for the sole legal rights to promote, sell and market its range of pharmaceuticals in Sri Lanka.
Ceyoka (Pvt.) Ltd, with its diverse engineering arm, has made a strategic investment to acquire 29 percent of Millennium Housing Developers PLC in October 2014. Ceyoka Engineering's unique blend of products and services include water proofing, insulation, exteriors, professional lighting and the importing of industrial equipment allows it to deliver project-specific solutions to the highest international standards. This business unit has entered into several landmark distributor agreements including Schneider Electric, the global specialist in energy management for its lighting control products, offering local clientele a complete end-to-end solution for lighting and lighting control systems.
Ceyoka Engineering has also partnered several reputed global leaders in waterproofing offering specialist products to the local market; among these are Green Seal Products (M) Sdn Bhd and Selleys Australia part of the DuluxGroup. Ceyoka is also the supplier of waterproofing solutions for the ongoing prestigious Keells 'Waterfront Project'. Ceyoka Engineering is also recognized as the country's leading insulation specialist and market leader in importing and distributing a wide range of insulation solutions.
In recognition of its commitment towards sustainable building practices Ceyoka's Engineering Division recently received the prestigious CIOB Green Mark Gold, issued by the Ceylon Institute of Builders (CIOB) for its architecturally appealing, sustainable and unique exterior high pressure laminate panels.
Ceyoka's agri business unit, Nawaloka Agri (Pvt.) Ltd, is widely recognized for its pioneering spirit and its commitment to quality and innovation offering two and four-wheel tractors, electric and engine driven water pumps, corn threshers, sprayers and many other agri-based products.
Through its partnership with Frey + Lau, one of Europe's renowned creators of flavours, fragrances and essential oils, Ceyoka has strengthened its footprint in the rapidly growing local market for flavours. Offering clients flavour profiles through F+L's liquid and encapsulated flavours Ceyoka serves the nation's largest food manufacturers and tea companies.
In addition, Ceyoka's subsidiary Koala (Pvt.) Ltd, offers an eclectic selection of stylish interiors and exquisite décor to the discerning clientele. Providing a one-stop-shop solution, Koala is unique in being able to offer a total range of exterior and interior products and services. Koala prides itself on owning its own Stainless Steel fabrication, Upholstery and Hardwood, Melamine and office furniture production lines in Sri Lanka and two showrooms showcasing its entire product range that includes, Koala's recently unveiled exclusive line of sofas showcases modern designs and unparalleled comfort.
Koala is proud to be the exclusive distributors in Sri Lanka for world-renowned 100-year-old hospitality and retails brands such as Onedia, Sant Andrea from the USA for flatware and buffet solutions and Vicrilla world-class Spanish glassware. Pursuing a green growth strategy as a diversified conglomerate, Ceyoka is the sole agent for FunderMax, the global leader in developing materials created from sustainable resources. Fundermax's unique exterior high pressure laminate panels created mainly from recycled waste materials are highly durable and versatile overclad to adorn residential and commercial premises.
Looking towards the future, Ceyoka aims to develop its strengths evolving into one of Sri Lanka's most valuable and largest multi-business corporate enterprises.