---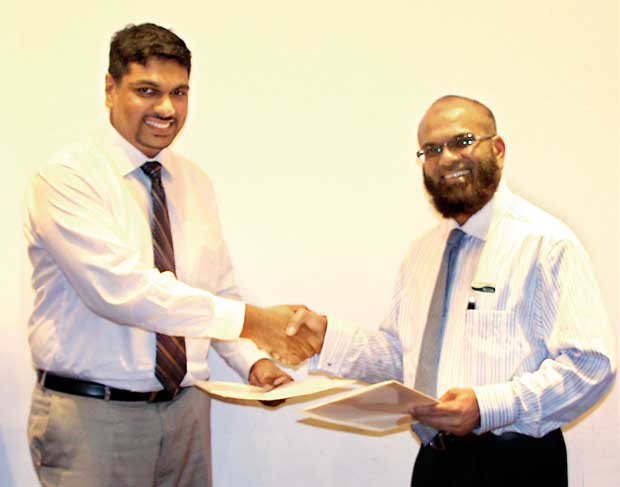 Digital Commerce Lanka (Pvt.) Ltd Chief Executive Officer Sheyantha Abeykoon and Amana Bank Chief Executive Officer Mohamed Azmeer exchanging the tie-up agreement


Amãna Bank, Sri Lanka's premier bank to operate in full conformity to the non-interest-based Islamic banking concept, has tied up with Digital Commerce Lanka (Pvt.) Ltd (DCL), a Dialog Axiata group company and the operator of leading online site www.wow.lk to offer the bank's easy payment plan scheme.
Through this partnership customers will have the option to purchase a variety of goods and pay on an instalment basis sans a credit card with a payback period ranging from six months to 36 months. The easy payment plan option is available to purchase a basket of products valued from a minimum of Rs.25,000 to a maximum of Rs.300,000.

Speaking on this partnership the bank's Chief Executive Officer Mohamed Azmeer said, "We are very happy to tie up with wow.lk to offer our easy payment plan. We have witnessed a growing trend in online retailing and believe our product offering will go well with this trend."

Also commenting on the tie up DCL Chief Executive Officer Sheyantha Abeykoon said, "This product is a first for the online industry, where to date most instalment schemes are largely available to holders of credit cards. Being continually committed to innovation in e-commerce and constantly striving to enhance our customers' experiences on the site, we are very pleased to partner with Amãna Bank in opening up a new frontier of growth for the online industry."

Amãna Bank's easy payment plan which was introduced in 2013, facilitates salaried customers to purchase electronics, furniture, household and personal appliances in a convenient 'pay as you use' mechanism and in a short period of time has received an overwhelming response and acceptance in the market.
Amãna Bank is listed on the Diri Savi Board of the Colombo Stock Exchange. The bank was recently recognized as the World's Best 'Up-and-Comer' Islamic Bank by 'Global Finance Magazine' at the 18th Annual World's Best Banks' Award Ceremony 2014 held in Washington DC, USA. Powered by the stability and the support of its strategic shareholders including, Bank Islam Malaysia Berhad, AB Bank in Bangladesh and Islamic Development Bank based in Saudi Arabia, Amãna Bank is making strong inroads within the Sri Lankan banking industry and is focused on capitalizing the growing market potential for its unique banking model across the country.

wow.lk continuously strives to meet the varied needs of the local online shopping community and deliver a convenient virtual shopping experience to customers, by providing them with a variety of affordable products and services. Part of the Dialog Axiata Group, wow.lk is now one of the largest and most reputed online e-commerce sites in the country.