---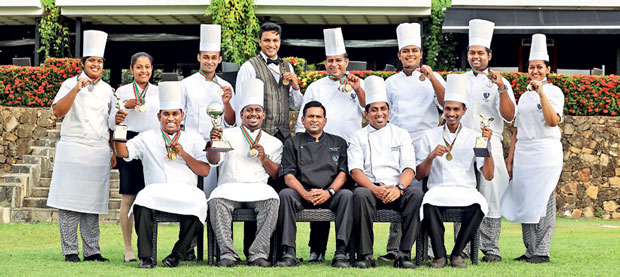 Adding further accolades to its already extensive local and international award portfolio, Colombo's favourite suburban hotel, Waters Edge, and its culinary team performed outstandingly at the recently concluded Culinary Art & Food Expo, which was held at the BMICH.\

The 17th edition of the most sought-after event in the local hospitality sector was organised by the Chefs' Guild of Lanka.

Renowned for cooking up the most authentic dishes from cuisines around the world in its 11 diverse food outlets, the team from Waters Edge displayed their real culinary prowess by walking away with seven individual Gold medals, 11 Silver medals and 11 Bronze medals. This included Gold for the Butter Sculpture created by Daminda de Silva, the five-course Set Dinner Menu and Plated Appetizers by Imal Danwatta, Gold for the Hot Cooking (Open) Live to Chanaka Kandambi, Hot and Cold Finger Food created by Krishan de Silva and the Lion Beer/Stout Coktail concocted by Ganga Rajapaksha.
Speaking on the outstanding success of his team, Waters Edge General Manager and Culinary Guru Rohan Fernandopulle said, "As a chef myself I am so proud to see the level of expertise that our team displays not only at competitions of this nature but also on a daily basis at the hotel. Serving up real food to our guests coupled with exceptional service is the backbone of our operations and it is humbling when our efforts are thus recognized by the industry."

Talented chefs from around the country battled it out in a bid to impress some of the world's most renowned culinary masters who were specially flown down to judge the event. A total of 1,700 chefs from 165 hotels across the country and even from the Maldives took part in this year's competition.
The teams competed in various categories including creating a mouth-watering menu of internationally-themed dishes including plated appetizers, five-course set dinner menu, petit fours and pralines, pastry and chocolate showpiece and hot and cold finger food for the judges.

In addition, wedding cake structures, butter sculpture, bread dough showpieces were also featured in the competition.

In addition to these medals Waters Edge further cemented its position as the go-to place for all things gastronomical when Chanaka Kandambi walked away with the Award for Best Chef of Sri Lanka 2017.