---
Coinciding with celebrations for the 150th anniversary of Ceylon Tea, the Watawala Family of companies stepped forward as Gold Sponsor to the Colombo International Tea Convention 2017.
Organized by the Colombo Tea Traders' Association (CTTA), the Sri Lankan tea industry's apex body, the Colombo International Tea Convention will take place at the Cinnamon Grand hotel on 7th and 8th August.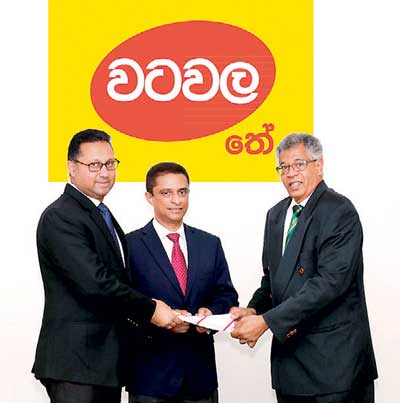 Senior representatives of the Watawala Family were in attendance to witness the landmark sponsorship as Watawala Plantation PLC CEO Binesh Pananwala and Watawala Tea Ceylon Ltd. CEO, Surith Perera jointly presented sponsorship cheque to Chairman of the convention's organizing committee, Michael J. de Zoysa.
"As Sri Lanka's single largest tea producer, it is our distinct pleasure to support the Colombo Tea Traders Association in their efforts to host Colombo International Tea Convention 2017. Given that this is a milestone year for our industry, which is celebrating its 150th anniversary of cultivation, we believe that this year's convention will be an ideal opportunity to bring together the best local and international minds together on a single platform and deliberate on the many challenges and opportunities facing tea producers, and exporters alike," Pananwala stated.
First hosted in 2012, the Colombo International Tea Convention is anticipated to draw participation from over 300 international delegates from both tea producing and consuming nations, over and above the substantial participation from domestic tea industry stakeholders.
Watawala Tea Ceylon Ltd. is the largest branded tea company in Sri Lanka. It has the highest market share in the tea category with three brands: Zesta, Watawala Tea and Ran Kahata catering to three distinct market segments.
Watawala Plantations has been Sri Lanka's largest producer of palm oil for several consecutive years. A significantly diversified plantation company, Watawala has interests in palm oil, tea, rubber and cinnamon. Watawala Plantations PLC is a subsidiary of Estate Management Services Ltd, a joint venture between Sri Lanka's Sunshine Holdings, TATA Global Beverages Ltd. and Pyramid Wilmar.