---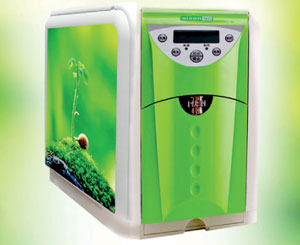 Wet Towel Dispenser is a product that instantly produces hygienic, convenient, disposable and economical nonwoven fabric wet towels with a press of a single button. Equipped with a self cleaning system and an in-built anti-bacterium water tank, the dispenser produces 18cm X 24cm wet towels that meet national environment and sanitation standards.

These non-woven fabric towels bring the welcoming comfort to first class air travel and five-star hotels and also at any service outlets such as salons, spas, restaurants, fitness centre or anyone who would love to offer an exclusive service to their clientele.
With the rapid economic development, consumer attitudes have begun to change into more environmental consciousness. The Wet Towel Dispenser is an ideal product for people seeking to accomplish their part of responsibility towards a greener environment.

WK Holding's towel rolls are a splendid solution for new type of e-friendly nonwoven spun lace and it meets the standards of national environment and sanitation. These towels can be useful in equipment cleaning, wiping kitchen vessels, etc. Wet Towel Dispensers are directly imported from China by WK Holding (Pvt.) Ltd, as the sole importers and distributors of this product.