---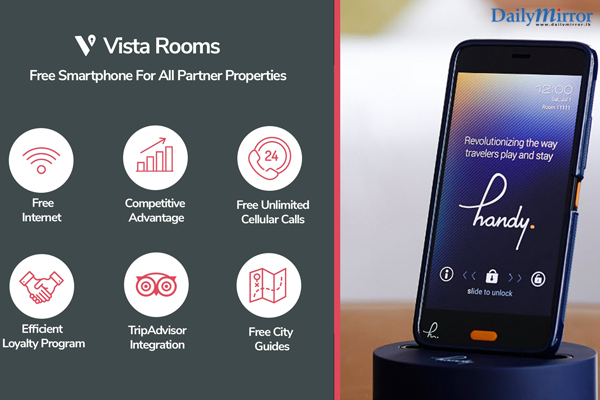 Vista Rooms, South Asia's largest chain of affordable stays, has partnered with handy to provide its network of hotels with free smartphones, allowing guests to enjoy unlimited international calls and data and access to local guides whereas hoteliers have an opportunity to upsell their services. The partnership will give Vista's partner hotels a competitive advantage and provide their customers with greater convenience and comfort during their travels.
This latest travel solution is in keeping with Vista Rooms' mission to improve their customers' travel experience and help their partners through the use of technology and innovation. Network hotels will be able to create a personalised experience, up-sell services and facilities within the hotel to increase their revenues as well as push instant reviews on Trip Advisor and other online platforms.
Connected travellers are on the rise, with a recent global research indicating that 46% of global travellers said free in-room Wi-Fi is a must-have amenity, which means they will look elsewhere if an accommodation does not provide connectivity.
"We are excited about partnering with handy. This partnership is born from a growing trend in the market due to the rise of social media and messaging apps. People are now more connected than ever and they want to keep their friends and family updated while on vacation. By giving them free data and unlimited international calls we are simply reducing one item from their checklist, keeping them connected to their loved ones and making their vacation that much more enjoyable," said Amit Damani, Co-Founder of Vista Rooms.
"Changes like these can make a huge positive impact on a traveller's experience thereby creating loyalty for our partner hotels and providing them with an edge in the market. This is just one of many steps we're taking to empower our hotel partners in the country," he added.
"Connectivity is more important than ever for an enriched travel experience in today's digital age and handy connects travelers so they can enjoy Sri Lanka as a premier travel destination, revealing local gems on the go and sharing their experiences. handy brings many benefits to hoteliers that may not have been able to assist their travelers to the best of their ability, handy is a solution that brings ease to excellent customer service travelling." said Terence Kwok, Founder and CEO of Tink Labs.
handy devices were first launched in September 2012 by Tink Labs to help deliver a hassle-free travel experience and meet a growing demand for internet connection services. The complimentary service enables visitors to travel like a local finding connectivity and information they need at no cost.
Since entering the country in April 2016, Vista Rooms has been successful in quickly capturing market share and building the largest network of branded stays in Sri Lanka with over 350 properties across 30 cities. Their recent move to offer end-to-end support as a complete turnkey solutions provider for over 50 villa and boutique properties has further strengthened their position.