---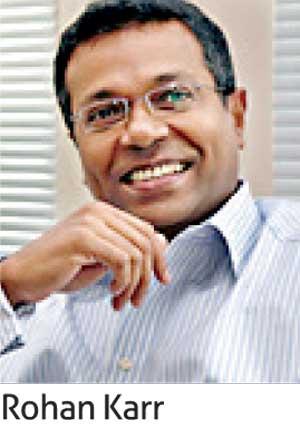 Leading hotelier and hospitality sector veteran Rohan Karr assumed duties as Managing Director of the Hayleys Leisure sector with effect from June 1, 2019.

With over three decades of unmatched experience under his belt, both in the local and international hospitality industry, Karr has been a driving force behind the success of several major hospitality franchises.

Backed by the fullest support of the Hayleys group, Karr is expected to revitalize strategy for the sector supporting increased synergies across the group's entire leisure portfolio.
"It is with great excitement that I step into my new role at Hayleys, and I look forward to the opportunities and challenges ahead.

"I believe that putting passion into your work is what breeds success. But more than this, it is attention to detail, and execution that leads to real performance.
"In that regard, I look forward to working with my new team in order to innovate a new approach to hospitality that will take all of our brands to the pinnacle of this industry in the months and years ahead," Karr stated.

Karr holds a Masters in Hospitality and Business Studies from the UK, and is a seasoned veteran in the hospitality industry.

Having worked at every level of the industry, Karr's unwavering worth ethic helped him to quickly rise through the ranks to become the General Manager at the Marriott Marble Arch, London.

Following his return to Sri Lanka, Karr was instrumental in revitalizing standards for the entire domestic hospitality sector through his ground-breaking work as CEO of the Cinnamon Hotels and resorts chain.

"The Sri Lankan hospitality sector is changing at a rapid pace and in order to build on our success, it is vital that we too adapt to new market dynamics.

"That is why we are extremely pleased to have an industry veteran of Rohan's calibre on board with us, and we look forward to extending the total support of the Hayleys Group behind his ambitious vision for our leisure arm," Hayleys Group Chairman/CEO Mohan Pandithage said.