---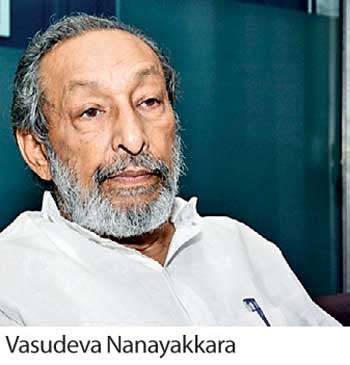 Parliamentarian and Joint Opposition stalwart Vasudeva Nanayakkara last week questioned as to why the present good governance regime, which came into power promising swift probes into past financial crimes, is backtracking on some of the large-scale graft cases alleged to have taken place during the administration of former President Chandrika Bandaranaike Kumaratunga.
Nanayakkara complained that no action has been taken regarding a number of "cases of defrauding large scales of public monies established before the Supreme Court, which had ordered to prosecute by the law enforcement authorities".

He highlights that no action has been taken against those responsible in the Water's Edge case, Lanka Marine Service case, where Colombo Port oil facility sale was found fraudulent, and the Sri Lanka Insurance Corporation privatisation case, which have all been found fraudulent by the judiciary of the country.

In a letter dated July 05, 2018, written to Inspector General of Police and Chiefs of anti-graft commissions and copied to the President, Law & Order Minister and Ministry Secretary and the Attorney General, Nanayakkara estimated the value of the total funds alleged to have been defrauded with regard to these cases were well above Rs.200 billion.

"Whilst clearly for political reasons prominence is given to recent similar allegations, my complaint, which was established by the Supreme Court findings of illegal and fraudulent misappropriation of public funds, remains without any action," Nanayakkara said in his letter.

Although the Secretary to the Law & Order Ministry, Jagath P. Wijeweera, had instructed the Financial Crimes Investigation Division's (FCID) Senior DIG to commence an investigation in a letter dated June 28, 2017, Nanayakkara pointed out that no action had been taken in his regard.

"I am surprised that even the Attorney General has neglected to take any action despite Supreme Court Directives", Nanayakkara alleged.

Nanayakkara's allegations come hot on the heels of the New York Times report alleging that a Chinese company provided US $ 7.6 million to former President Mahinda Rajapaksa's failed re-election bid just prior to 2015 presidential election and tit-for-tat allegation that the United States poured in millions of dollars to make regime changes in three countries including Sri Lanka.