---
Vajira Kulatilaka, Director/CEO of NDB Group's investment banking cluster, will be retiring by the end of June 2020, after 36 years in the banking and finance sector of Sri Lanka.
Kulatilaka embarked on a career in finance in 1984, joining NDB Bank as a Project Officer and moved on to take key strategic positions at Sampath Bank, USAID and CKN Fund Management, before he took over the helm of NDB Investment Bank (NDBIB) in 2001.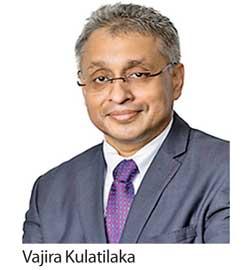 Kulatilaka was instrumental in bringing the company to the leadership position it commands today, which has been recognised as the Best Investment Bank in Sri Lanka by the prestigious Euromoney magazine for eight consecutive years up to 2019.

During his tenure, he introduced a number of innovative financial products to the debt and equity market of the country. He has been the team leader in carrying out landmark investment banking transactions in Sri Lanka, including the largest Initial Public Offering (IPO) namely, Dialog
Telekom IPO.

Further, under Kulatilaka's guidance, NDBIB carried out two of the largest and most successful IPOs in the Maldives. He was adjudged the Best Investment Banking CEO Sri Lanka in 2014 and 2015 by Global Banking and Finance Review, in recognition of his contribution to the investment banking field in Sri Lanka.
Furthermore, Kulatilaka introduced the concept of an investment banking conglomerate to Sri Lanka, where he created the leading businesses in all segments of the capital market under one holding company.

Accordingly, in addition to NDBIB, he provided strategic leadership in developing Sri Lanka's largest private sector asset management company, NDB Wealth Management, as well as one of the leading stockbroking firms in the country, NDB Securities (Pvt.) Limited.

In 2014, he was instrumental in launching Sri Lanka's largest country-dedicated PE fund and thereby completed the final link in creating a full-service investment bank. He was also instrumental in diversifying NDB's investment banking cluster to Bangladesh by forming NDB Capital Bangladesh, which has also won the Best Investment Bank in Bangladesh award from Euromoney for three years.

Kulatilaka served as Chairman of the Colombo Stock Exchange from 2014 to 2017, Chairman of the South Asian Federation of Exchanges (SAFE) from 2015 to 2017 and also as a council member of the University of Moratuwa from 2015 to 2019. He has held directorships in a number of listed and state enterprises.

Kulatilaka holds a BSc. in Civil Engineering with a First Class Honours from the University of Moratuwa and an MSc. in Industrial Engineering and Management from the Asian Institute of Technology, Thailand.

He is also a Charted Financial Analyst (CFA) and has obtained Fellow Memberships of the Charted Institute of Management Accountants, UK.

He was awarded the Distinguished Alumni Award in 2011, in recognition of regional service through outstanding professional and technical achievements by the Asian Institute of Technology Alumni Association (AITAA) in Thailand.