---
The Union Bank of Colombo PLC (UBC) group reported 12 cents a share or Rs.136.3 million in earnings for its October-December quarter, recording an increase of 75 percent year-on-year (YoY) supported by some solid growth in its loan book in spite of the margins coming under pressure, the interim financial accounts showed.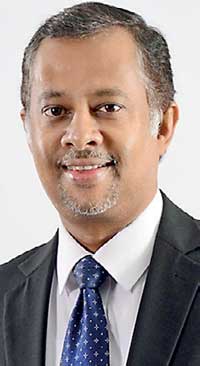 The net interest income rose by 62 percent YoY to Rs.985 million but the interest expense more than doubled demonstrating the rising interest rates.
For the year ended December 31, 2016, the banking group reported earnings of 46 cents a share or Rs.504.1 million, an increase of 126 percent YoY. However, the bank's return on equity remained at 2.65 percent, probably the lowest in the industry.
However, the bank is one of the highest capitalised local banks after it received US $ 117 million investment in 2014 from TPG, a US-based global private equity investments firm.
The UBC group consists of National Asset Management Limited and UB Finance Company Limited.
The bank on a standalone basis expanded its gross loans by 37.8 percent YoY or Rs.15.4 billion to end the year with a total portfolio of Rs.56.1 billion.
"Resurged demand for private sector credit in the first half of the year, supported growth in corporate and SME portfolios whilst retail lending was driven by growth in personal loans and home loans," Union Bank Director/CEO Indrajit Wickramasinghe said in his annual review.
Union Bank was the first listed entity to publish its annual report for the financial year ended December 31, 2016.
UBC is now a bank with an asset base of Rs.93 billion with 65 branches, 120 ATMs and closer to 1,200 staff.
The asset quality also has improved as the gross non-performing loan ratio fell to 2.4 percent from 3.55 percent.
UBC commands an advantage over the others in accessing top-tier corporates in the industry as it can afford to give competitive rates since it operates with a large capital buffer and comfortable level of liquidity, banking sector analysts say. The net interest margin narrowed to 3.06 percent from 3.37 percent. The deposits grew by a strong 37.4 percent or Rs.14.1 billion to Rs.51.8 billion. The bank was able to maintain its low-cost deposit base— the current and savings account (CASA) ratio— above 23 percent as it appeared to have taken conscious efforts to offer cash management services to corporates while expanding its channels to penetrate the retail clients.
Union Bank operates with a very healthy capital adequacy ratio of above 20 percent. Culture Financial Holdings Ltd holds a 70 percent stake in the banking group.