---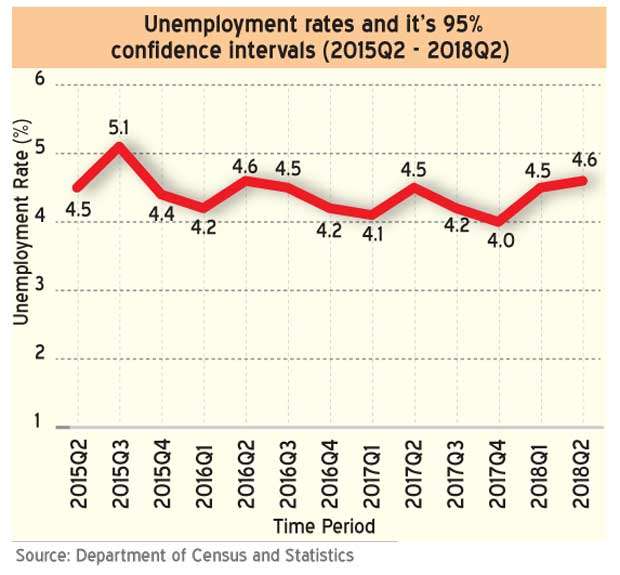 Employment in agriculture and industry sectors down

Number of unemployed persons estimated at 381, 834

Sri Lanka's unemployment rose to 4.6 percent in the second quarter of 2018 (2Q18) amid a fall of employment in the country's agriculture and industries sector, the data released by the Department of Census and Statistics showed.

The number of unemployed persons is estimated at 381,834 in 2Q18. The total number of people employed in 2Q18 was estimated at about 8 million compared to 8.1 million in 2Q17, and almost half of them are employed in the services sector.
The number of people employed in the agriculture sector fell to little over 1.9 million or 24.2 percent of the 8 million employed people compared to 2Q17 figures of 2.1 million or 28.3 percent.

In 1Q18, the number of people employed in agriculture was little over 2.1 million or 26.9 percent of the employed 8 million.

The industries sector employment in 2Q18 also fell to 27.5 percent from 28.3 percent in 2Q18 and 27.9 percent in 1Q18.

The services industry however saw little over 129, 000 people joining the sector within the 12 months to 2Q18, as employment in the sector grew to 48.3 percent from 45.7 percent in 2Q17 and 45.2 percent in 1Q18.

Unemployment in Sri Lanka has remained below 5 percent since 3Q15.

Meanwhile, the overall unemployment rate reported for females is 7.4 percent and it is 3.1 percent for males.

The youth unemployment rate (age 15 – 24 years) in 2Q was 22.5 percent and according to the quarterly Labour Force survey of the DSC, that is the highest reported unemployment rate among all age groups.

The survey results further revealed that unemployment among females is higher than that of males, in all age groups.

Youth and female unemployment contribute more to the overall unemployment of the country.

The highest unemployment rate is reported from the G.C.E (A/L) and above group which is about 8.9 percent.

Corresponding percentages are 5.0 percent and 12.7 percent for males and females respectively.

Female unemployment rates are higher than those of males in all levels of education.

This further shows that the problem of unemployment is more acute in the case of educated females than educated males, which was observed consistently over the results of previous survey rounds as well.