---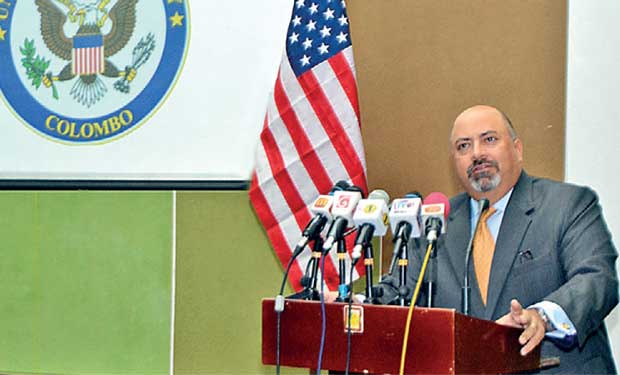 By Shabiya Ali Ahlam
United States Agency for International Development (USAID) yesterday joined the government to launch a project to equip the country's youth with skills required to survive and thrive in the fast evolving workplace.

YouthLead is a US$ 12 million initiative that aims at linking the country's youth with productive careers in the local economy, by creating a more 'market-oriented skilled and flexible' workforce.

The project will be carried out over a 4-year period and will help young Sri Lankans between the ages of 16 and 36 become more competitive in the labour market.

Sri Lanka's private sector has repeatedly stressed on the prevailing mismatch between the skills required and the skills available in the market place. According to the latest Labour Force Survey (2016), 70 percent of those unemployed are youth and of that 85 percent are from the rural area.
While 55 percent of unemployed youth have passed GCE O-Levels and above, as per World Bank statistics as of 2014, the unemployment rate is higher by nine folds compared to the rest of the working age population.
YouthLead essentially targets students, teachers, entrepreneurs and women to ensure there is a tight fit between the skills demanded in a competitive economy and the skills of local youth.

The project's regional focus is on the provinces with the highest youth unemployment, which are Sabaragamuwa, Central, Southern and Northern provinces.

Addressing the launch ceremony held in Colombo yesterday, US Envoy Atul Keshap asserted that the future of Sri Lanka depends on its youth gaining the skill and knowledge will "power the country's prosperity".

"By deploying the resources and knowledge of government and businesses, YouthLead aligns global best practice tools and training with in-demand jobs", he said while emphasizing on the importance of public private partnerships (PPPs).

Meanwhile, YouthLead Project Director Charles Conconi pointed out that the gap in the youth unemployment space will be bridged in a systemic manner by working closely with instructors to enhance their ability to impart knowledge; career counselors to make sure they assist the youth in taking their first step towards a career and not just a job and training institutes to build their capacities to deliver high quality courses that can lead directly to employment.

The USAID funded YouthLead is administered by Volunteers for Economic Growth Alliance (VEGA), and implemented by IESC, an organization that has worked with a number of private enterprises in the country since 1965.

Under the programme, IESC will partner with the Ceylon Chamber of Commerce (CCC), the American Chamber of Commerce (AmCHAM), Arizona State University, Global Communities, Skills for Life and Verité Research.